Almost Heaven Saunas Are Heavenly
Almost Heaven saunas are made by a company that sells a variety of recreational saunas, steam rooms, spas and pools at wholesale prices, passing the savings on to the customer. Almost Heaven's collection of saunas is very impressive, offering single person, family and group sized saunas at remarkably affordable prices. Volume sales are the cornerstone of the pricing strategy and it seems to be working for them.
Almost Heaven Saunas are Unmatched in Selection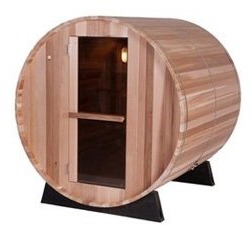 We haven't found another sauna retailer or wholesaler that offers a better selection of residential saunas. You can order a 5' x 7' sauna in various styles, including eight different floor plans and a choice of two bench styles. You can also choose from nine different door styles and upgrade the benches and sauna heater if you like. Most retailers simply can't offer so many options because they are selling pre-manufactured kits. At Almost Heaven, you'll get a package that isn't put together until you place your order and indicate which options you want.
Compare Prices of Almost Heaven Saunas at Amazon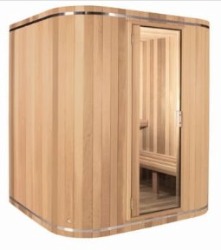 Part of the success of Almost Heaven saunas relies on their recognition that there are many people who want to save money while getting a high end product. In order to meet the needs of consumers, they offer both pre-built saunas and pre-cut saunas. Their pre-built sauna kits are similar to those offered by other manufacturers - the walls are already wired and simply lock together. Almost Heaven pre-cut sauna kits include all of the materials cut to size, but you'll need to assemble the walls and flooring yourself rather than simply locking each side together. The saving here can be substantial, particularly if you're buying a larger model sauna. Do-it-yourself homeowners appreciate the opportunity to build a sauna themselves without the headache of having to plan the sauna construction from scratch.
Saving You Money on the Website
The Almost Heaven Group's website isn't the prettiest site you'll find. It's pretty basic in terms of graphics, but it's packed with information, including complete instructions and floor plans for every one of the saunas they sell.
The customer service at Almost Heaven is impressive. The "live chat" feature allows you to chat with a representative who is usually quite knowledgeable about saunas in general and their own product line in particular. When we chatted with customer service online, the rep gave us clear, detailed answers and even had some helpful suggestions.
Superior Materials
All Almost Heaven Group saunas are made of Western Red Cedar, using only grade A clear cedar with no knots or blemishes. While this makes for a more attractive sauna, the real reason you should avoid saunas with knots in the wood is because the denser wood of a knot can get hot enough to burn your skin. Residential Almost Heaven saunas are backed by a limited five year warranty, which is quite good. Combined with their impressive selection and excellent service, the result is an outstanding sauna wholesale service.
Return from Almost Heaven Saunas to the Home Saunas Index Page