Sunlighten Saunas Offer Full Spectrum Infrared
Sunlighten Saunas, formerly Sunlight Saunas, manufactures full spectrum and Far infrared saunas. While most other infrared units are far infrared only, Sunlighten emphasizes their unique niche as a provider of full spectrum infrared, which is reported to have numerous health benefits, including boosting the immune system, pain relief, weight loss, improved circulation, blood pressure reduction, and even promotes faster wound healing.
Lest you think the company is claiming too much, the website makes sure you're aware that Sunlighten Saunas were featured on the popular television series', Dr. Oz Show, Ellen and Oprah Winfrey.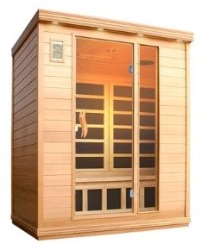 Marketing Research and Its Results
Sunlighten Saunas did extensive market research that contributes to the design and build of each of their sauna collections, and it shows.
They have patents on the 3 in 1 sauna, meaning all three infrared wavelengths, and a high emissive patent for having the most far infrared (fIR) in a sauna.
Their most popular series, the mPulse®, features a stylish, contemporary design that sets it apart from almost any other indoor sauna. The mPulse is also one of the greenest saunas on the market. It's made from FSC certified softwoods, is energy efficient, and uses bamboo heater covers.
You can check out the current lineup of Sunlighten Saunas here.
(If you mention our site, Sauna Talk, you can usually get some special deals. :)
All saunas made by Sunlighten feature ergonomically designed benches and back supports that are deeper and higher than those in standard saunas for added comfort and support. Most models also have removable benches so that users can practice sauna yoga, one of the newest trends in combining sauna with exercise.
The most unique feature offered by Sunlighten is their biofeedback system. The mPulse lineup of saunas feature a personal monitor that tracks your heart rate and calories burned while you're in the sauna, giving you valuable information you can use to maximize your sauna experience.
SoloCarbon™ Heaters
Sunlighten infrared saunas are the only ones currently using the SoloCarbon™ heating system, which utilizes near, mid and far infrared heating. The company claims this increases the detoxification effect by seven times that of traditional saunas. Their proprietary blend of wavelengths can't be found in other infrared saunas. All Sunlighten systems use SoloCarbon or Carbon Surround technology to ensure even heating of the body without the danger of older ceramic rod technologies used on some far infrared saunas.
Solo System for Compact Use
Sunlighten Inc.'s most unusual offering is the Solo unit, which looks somewhat like an elongated igloo. The two curved sections fit over the body while you lie on the floor, massage table, or bed. It can be converted from full body to lower body use for more targeted treatment. You can also realign it so that you can sit up with your legs extended and still get the full effect. No other manufacturer offers this kind of versatility in a personal, portable sauna.
The advantages of far infrared saunas are undisputed and more mainstream doctors recommend its use every year. If you have health problems or you simply want to rejuvenate and boost your immune system, Sunlighten Saunas' far infrared system is well worth the investment.