The Best Infrared Sauna For Your Home 2022 - Find One to Fit Your Budget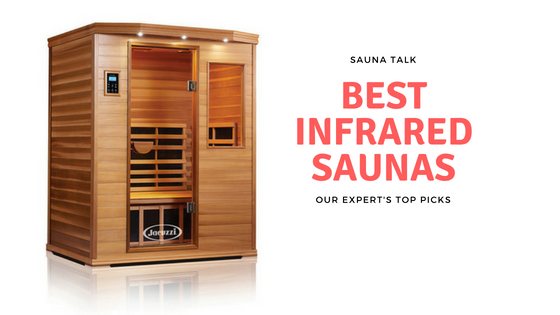 With so many options out there, it can be very difficult to find the best infrared sauna for your home. There are dozens of companies and an endless number of models, styles, sizes and types.
Also, many of the companies you find online are simply resellers...they don't actually manufacture their own saunas! So you really don't know what you're getting.
That's where Sauna Talk comes in....
With over 25 years of experience, our team of experts has compiled a list of the very best brands on the market today. This will really help you narrow down your choices and find the one sauna that works best for you.
All of these companies have been in business for at least 10 years, are well-regarded and stand behind their products 100%. So you really can't go wrong with any of them.
To make it an even easier decision for you we have secured special discounts exclusively for Sauna Talk readers at each of these top manufacturers.  So be sure to mention us whether you fill out a price request form or call up on the phone to save a few hundred dollars and/or get a free accessory.
Need a recommendation? Just contact the Sauna Talk experts or fill out the form and we'll point you in the right direction!
Best Infrared Sauna Brands
(Mention Sauna Talk for $250-$600 Discount)

SAUNA TALK RATING: 
5 STARS (*****)


Wood: Cedar, Basswood, Eucalyptus
Saunas: 3-in-1/Far Infrared/Full Spectrum
Heater: Solocarbon
Custom: Yes
Warranty: Comprehensive 7 yr
Certifications: PEFC, FSC, ETL
Benefits: Low EMF (testing data)
BBB Rating: A+
Customer Service: 7 days/week
---
(Mention Sauna Talk for $400-$600 Discount)


SAUNA TALK RATING:
5 STARS (*****)

Wood: Cedar, Basswood
Saunas: Full Spectrum/Far Infrared
Heater: Carbon ceramic
Custom: Yes
Warranty: Lifetime
Certifications: ETL, CE
Benefits: Low EMF, Low ELF
BBB Rating: A+
Customer Service: 7 days/week
---
(Mention Sauna Talk for Special Discounts)


SAUNA TALK RATING: 
5 STARS (****)


Wood: White Poplar
Saunas: Infrared, Traditional
Heater: Ceramic
Custom: Yes
Warranty: 10 yr/5 yr
Certifications: CE, CSA, UL
Benefits: Low EMF
Customer Service: 7 days/week
---
SAUNA TALK RATING: 
4 STARS (****)


Wood: Aspen, Hemlock
Saunas: Far Infrared
Heater: Solid Ceramic
Custom: Yes
Warranty: Lifetime
Certifications: ETL
Benefits: Low EMF
BBB Rating: A+
Customer Service: 7 days/week
---
SAUNA TALK RATING: 
3 STARS (***)


Wood: Canadian Hemlock Fir
Saunas: Far Infrared
Heater: Carbon fiber/Ceramic
Custom: No
Warranty: 5 years
Certifications: ISO, ETL, CE
Benefits: Low EMF
BBB Rating: B
Customer Service: 5 days/week
---
Need a Recommendation?
Fill out the form below and let our experts help you choose the best sauna for your home!
How Did We Choose These Best Infrared Sauna Companies?
Our extensive research lasted many months, and using our years of experience we were able to narrow down our list to the top 5 infrared sauna companies on the market today.
Quality of craftsmanship and level of customer service were two main components, along with several other criteria which we deemed important in order to make our final recommendations.
Let's take a brief look at the top brands...
Clearlight Saunas (now Jacuzzi® saunas) has been one of our best infrared sauna picks for several years now. The company offers Full Spectrum and Far Infrared Saunas made of cedar wood and basswood, featuring their low EMF and ELF True Wave II infrared heaters.

The company was founded by a chiropractor, Dr. Raleigh Duncan, over 20 years ago, and has also received numerous endorsements from other medical professionals.  He is a pioneer in the industry and the company stands behind every sauna they make.
As far as customer service, quality of the saunas and heaters, and warranty, Clearlight is as good as it gets.  The partnership with Jacuzzi® has only made them stronger.
Sunlighten offers a line of Full Spectrum (3 in 1) and Far Infrared saunas, including the popular mPulse and Signature Series, among other models.  
Their saunas feature the patented Solocarbon heating technology, which has been shown to raise your core temperature, lower your blood pressure and assist with weight loss.  Sunlighten also features the only true 3-in-1 Infrared saunas on the market. The company has received many innovation awards over the years.
Heavenly Heat is a great choice for those with chemical sensitivities, with non-corrosive steel screws, thick paneling, untreated wood, passive venting system and many other safer, cleaner choices.
Therasauna has been around for over 20 years, and their infrared saunas are made of hemlock and aspen hardwood.  They also offer Custom saunas to your specifications.
Customers appreciate the fact that the saunas are manufactured in the US, Dewitt Iowa to be exact.  The company's products are found in many health facilities across the country.
Health Mate has been making infrared saunas for over 35 years, and are one of the leaders in the industry.  The company believes strongly in sustainability, and every step of the manufacturing process adheres to strict guidelines.
They hand-select the finest Canadian Western Red Cedar trees, known to be resistant to bacterial growth.  They use the entire tree, so nothing in wasted in the process. All home saunas are hand inspected for quality and easy to put together.  Lastly, Heath Mate plants every time they remove a tree, continuing the cycle of life.
Their saunas utilize a low EMF Tecoloy Infrared Heater which has been tested by a third party.
JNH Lifestyles is a relatively new company, founded in 2014.  They have 4 different collections to choose from, including Vivo, Joyous, Freedom and Ensi, and offer hemlock and cedar options.  They adhere to very high standards, and have many industry certifications.

JNH prides itself on its third party testing, it's patented DuraPanels that protect from wear and tear, and its proprietary structure making assembly and replacement easier.
What criteria did we use to arrive at our top picks?
We used a combination of our experience and that of our customers to determine which infrared sauna companies to recommend for 2022.  
We combed through their websites, we looked for support for any claims, we researched their saunas and heating units thoroughly.
We also reached out the companies to see what level of customer support they offer, how willing they were to answer questions and how knowledgeable they were.
We combined this with the experiences of our customers who have purchased infrared saunas from these companies...how satisfied were they with the saunas, how was the installation, any problems with the units, issues with customer service, etc.
So with all of the appropriate information gathered, we formed our star rating system, and this is what you see here on this page.
Which Sauna Should You Choose?
Of course it often comes down to price when choosing the best infrared sauna for your home.  So which one should you pick?  We'll try to help you out.
You want the very best quality sauna there is...
If you're in the market for a high quality sauna, with the best woods, the most effective heating units and top-end components, take a look at Clearlight/Jacuzzi.  The Sanctuary Full Spectrum saunas are incredible, but if you want far infrared only, the Premier line is equally impressive.
Also look at Sunlighten Saunas, equally high quality and worth considering for your home.  Here you have the mPulse 3-in-1 infrared and the Signature Far Infrared options.
You want a good sauna but price is a concern...
If the Clearlight/Jacuzzi and Sunlighten Saunas are above your budget, then consider one of the second tier brands like Dynamic. You're certainly not getting the same quality, but you will reap the benefits of the sauna experience nonetheless.
Just for frame of reference, the best infrared saunas will be in the $3500-$5500 range, and the second tier ones will be in the $1100-$3000 range.
So, take a look at all of the saunas that these companies manufacture to decide which one is right for you.  All of them are well regarded and have been in the industry for a very long time.
If you need help deciding which is the best home sauna for you, just contact us and we'll be glad to point you in the right direction.
You can read a little more about our infrared sauna reviews here.