The Best Portable Saunas Out There - Low Cost Options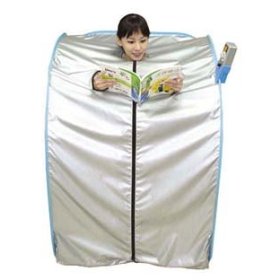 The health benefits of portable saunas have been touted for years. Basically, all saunas serve the same purpose: rid the body of toxins through sweating, raising body temperature, improving blood circulation, and providing relief from stress as well as aches and pains.
Fortunately, you can achieve these goals in a large community-type sauna as well as an intimate personal sauna, and everything in between.
There are basically two types of portable saunas: infrared and steam.  Here we will be focusing on the more popular infrared type.  You can learn more about the portable steam sauna here.
Advantages of Portable Saunas
There are many advantages when it comes to the portable sauna.  Let's take a look at a few of them here...
1. They are considerably less expensive than traditional 1-2 person saunas.  As a frame of reference, you can expect to pay between $100 and $500 for a portable sauna, as opposed to around $1000 or more for a basic 1-2 person free standing unit.  So the cost savings are considerable.
2. You can enjoy the sauna experience anywhere.  Rather than it being a stationary unit, the personal sauna can be used anywhere you go.  At home, at a friend's house, on vacation.  At around 20 lbs. or less, you can easily pack it into your car and bring it with you wherever you go.  You can't do this with a regular sauna.
3.  Portable saunas heat up much quicker than regular saunas, so you can enjoy them right away without the wait time.  This ideal for those who want to just get in and reap the benefits.
Most of the better portable saunas allow you to poke your head and arms out, so you can watch TV, read a book, use your tablet or anything else you enjoy doing to pass the time.
Let's take a closer look at some of the best models...
The Best Portable Infrared Sauna Options
One of the most popular portable sauna options these days is the sauna blanket. Although they weren't always great options, they've come a long way in recent years and they've actually surpassed the traditional portable models you'll read about below.
TOP PICK - Sauna Blanket
Higher Dose 
The best option we've come across here is the HigherDOSE Sauna Blanket, which was actually partially designed by the same doctor who created Clearlight Saunas, one of the best infrared sauna manufacturers on the market today.
It's very easy to use as well. You basically just set the level, let it warm up, slide yourself in and enjoy the therapeutic infrared heat for up to 45 minutes.
We have one that we use a few times a week, sometimes even more, and it's awesome. You really sweat it up big time.
You can check it out and get a special Sauna Talk exclusive $75 off discount here! (USE CODE SAUNATALK75)
---
Another type of portable sauna is the "cabin" type.  It features a flat back and bottom, with a curved front and a zipper for entry and exit.

You have two openings for your arms/hands, and a hole for your head.  Some models come with a sports-style chair that you can sit in, but often people use their own.
Here are some of our favorites on the market today...
TOP PICK - Stand Up Portable Sauna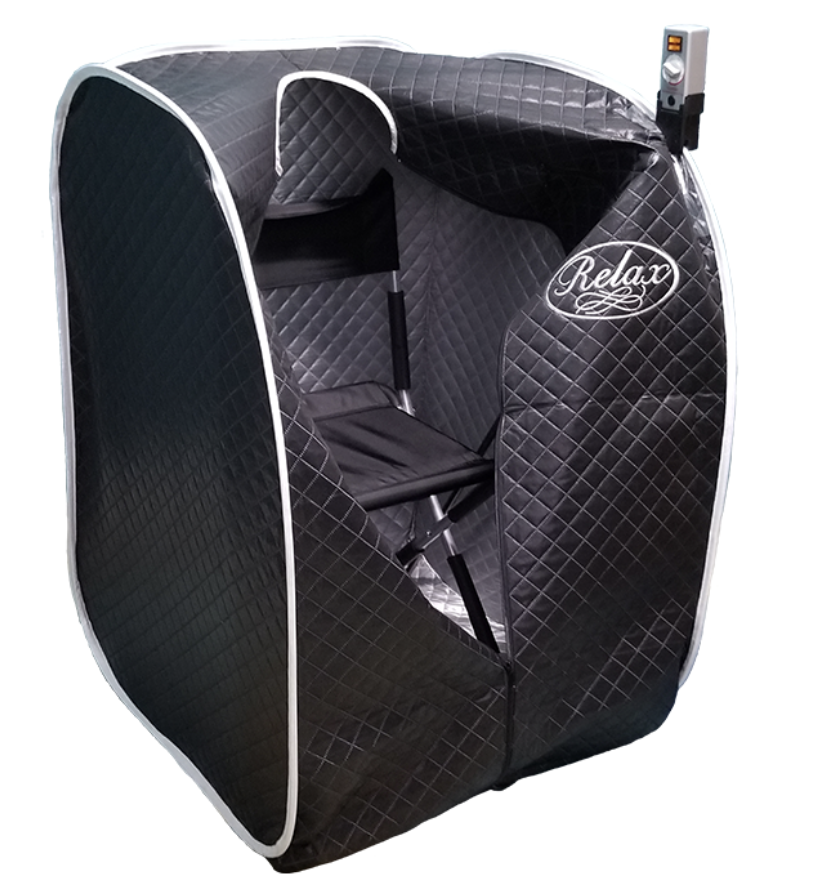 Relax Infrared Saunas
Of all of the portable sauna manufacturers, Relax is one of the few that filters out most of the near and mid infrared rays, giving you over 95% pure far infrared energy.
They currently offer three different models: the Relax Lie Down Far IR Sauna, a Black stand up portable model and a silver stand up portable model.
Take a look at each one and decide which model appeals to you.
Check them all out on sale now!
---
Other Portable Options
SereneLife Portable Infrared Sauna
This is one of the most popular portable saunas on the market today, and one of the biggest sellers at Amazon.  It's often on sale for less than $200 which is a pretty fair price.
You can set your desired heat up to 140 degrees F, and there's a timer up to an hour so it can automatically turn off when you are done.  Power output is 1,050 watts, and the unit is very compact: 27" long, 31.5" wide and 37.8" deep.  At 20 lbs., you can really take it anywhere.
The SereneLife portable sauna comes with a chair included, as well as a heating pad for your feet.  After you are done, you can fold it up and have it ready to move in under a minute.
---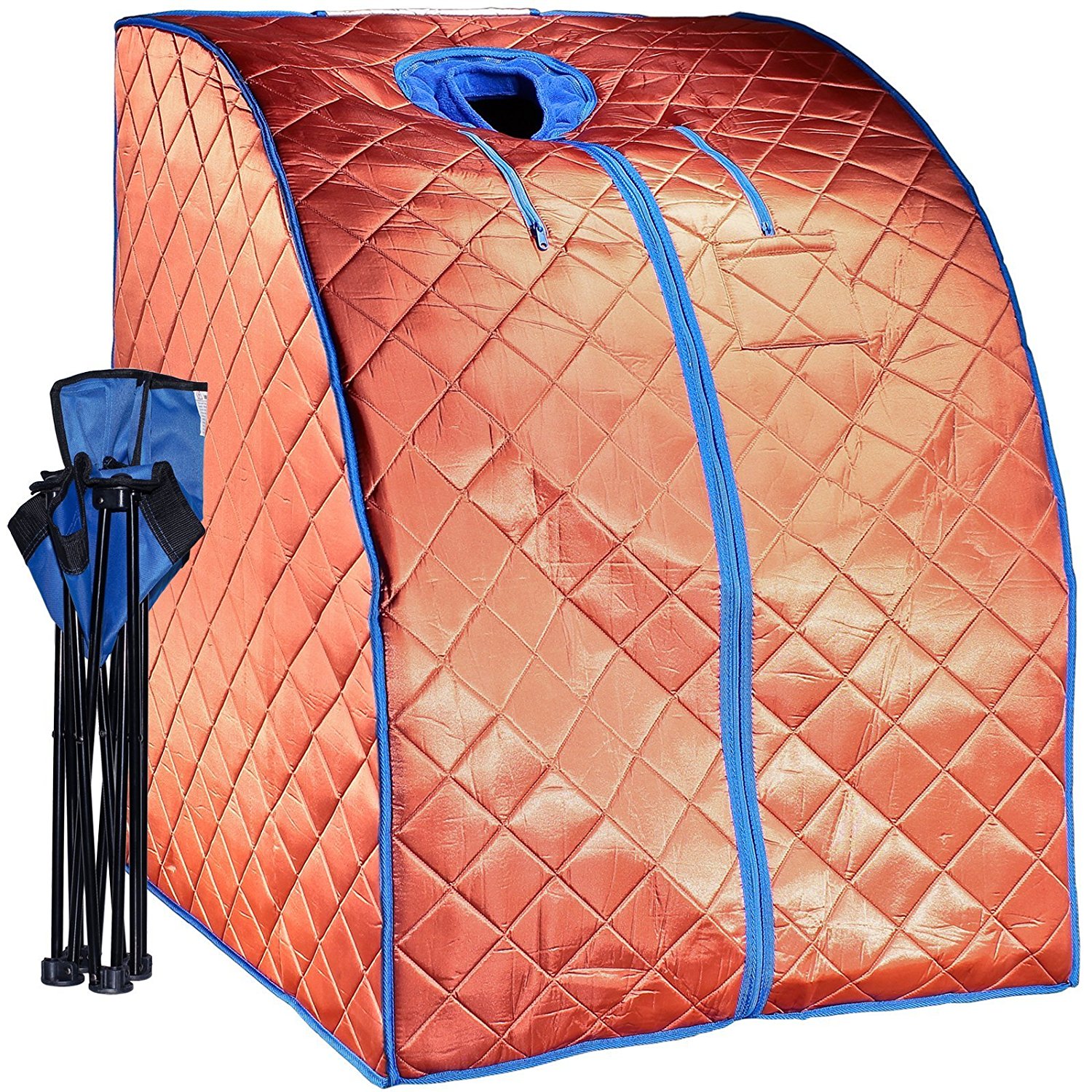 Durherm Portable Infrared Sauna
This is one of the more expensive models, in case you are looking for something a little more advanced.  Here you are getting another large sized unit just like the Radiant Sauna, with a higher quality Active Carbon Fiber heating system with very low EMF.
It's the heaviest of the three personal saunas, at 25 lbs. and about the same dimensions at the Radiant.  It also comes with a foot heating pad and a chair like the others do.
The max temp is 150 degrees like the Radiant, yet the time range goes up to 30 minutes, unlike the 60 minute option on the SereneLife.
What About the Dome Shape Portable Infrared Models?
There is another type of portable infrared sauna called the dome, which is a bit more advanced than the cabin type. They range from $650 to $2500 and can be taken anywhere, even on vacation. It resembles a one-man camping tent. You just plug it into a wall outlet and lie down inside. Your body is completely encased in the dome-shaped tent, except for your head.
Like the personal sauna cabin, these dome units use FIR emitters to heat the body. They are energy efficient and many users report a satisfactory sauna experience.
TOP PICK - Dome Shaped Portable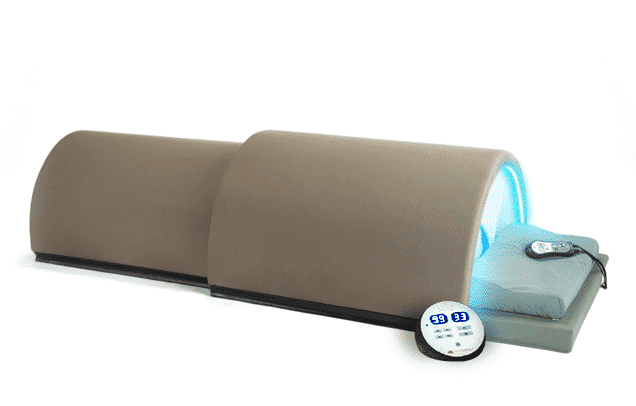 One of the best ones we have come across is the Solo System from Sunlighten, which is as close as you can possibly get to a real sauna experience.

It comes with 9 Solocarbon heaters with very low EMF, chromotherapy, zoned based heating, exclusive Solopad and a pillow.  You can use it lying down or seated, and focus on particular areas like the upper and lower body.
The Sunlighten Solo System is by far the most advanced portable sauna option on the market today, for those who want the best of the best.
What's the Bottom Line on Portable Saunas?
Whether you want the more affordable cabin style portable infrared sauna, or the more advanced dome style, either one can provide the enormous health benefits that IR heat provides.
If budget is a concern, check out the cabin style zip models we discuss above and choose the one that makes the most sense for you.  If your budget is more open, the dome style personal units are of higher quality and will likely enhance the benefits due to the better construction and efficacy of their infrared heating units.
A portable sauna can be a great addition to your wellness plan, so look into your options today to see what's out there.