Portable Saunas You Can Take with You
The health benefits of portable saunas have been touted for years. Basically, all saunas serve the same purposes: rid the body of toxins through sweating, raising body temperature to induce a temporary fever, improving blood circulation, and providing relief from stress as well as aches and pains. You can achieve these aims in either a large community-type sauna or an intimate personal sauna.
Let's clear something up while we're at it. By portable saunas, we are generally referring to the 1 to 2-person units that are assembled with only simple tools and can be set up and taken down in about an hour. While there are traditional hot rocks sauna rooms that are permanent and stay with the house, a personal sauna unit is one that sells for about $1000 to $3000, and is classified as "portable" since it's as easy to move as furniture. (Also see portable steam saunas).
Advantages of Portable Saunas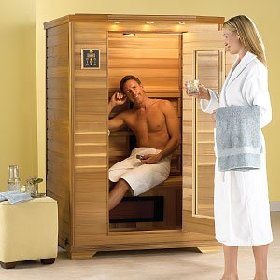 There are basically three main types of portable home saunas which look alike on the outside but use different heat technologies: steam saunas and infrared saunas.
Portable Steam Saunas
Traditional steam or Finnish saunas use electric, gas, propane or wood-fired heaters and require preheating to a temperature of 150°F to 190°F. These 2 to 4-person saunas can be used as either a wet or dry sauna; you can choose to pour water on the hot rocks to make steam thus creating a wet sauna, or you can enjoy the lower temperature of the dry sauna (no water on the rocks).
Compare Prices of Portable Saunas at Amazon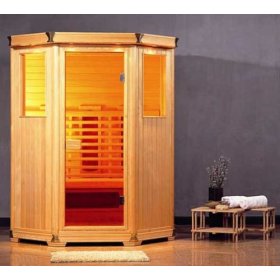 Portable Infrared Saunas
The second type, the far infrared ray (FIR) sauna comes with a ceramic heat emitter that produces rays at wavelengths that do not heat the surrounding air. The rays are directly absorbed by the body, thus raising your internal body temperature. A portable far infrared sauna does not take as long to warm up as the steam sauna (about 10 minutes compared to 30 to 40 minutes), and requires less electricity to operate.
Both the electrically heated traditional portable home sauna and the infrared sauna are quick to set up and plug into either a standard 120V or a dedicated 240V outlet. You don't need a builder's permit, or a plumber to set up water or gas lines. Both are made with non-toxic hemlock fir wood. They come with timers and digital temperature controls.
2-Person Infrared Saunas - Easy to Set Up
Modern portable saunas are all-inclusive designs that even include built-in stereo receivers, CD/DVD players, speakers, lights, magazine racks, cup holders and vents. They come with everything you need and there's no additional equipment to buy.
Take Your Sauna with You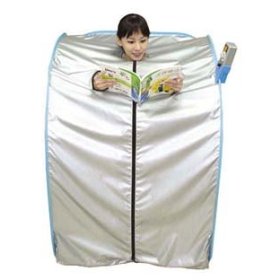 If you aren't ready for a large cabinet-type unit, there are still more options: portable sauna domes or tents, the "sauna-in-a-bag" design, and personal sauna suits are other types we can mention. The latter one looks like a silver space suit and is worn around the house while you do housework, while the sauna bag is can be either a washing machine-shaped thing that you sit in with only your head sticking out at the top, or a long sleeping bag.
The Portable Dome Sauna
By far, the most popular of these portable units continues to be the dome design. They range from $400 to $900 and can be taken anywhere, even on vacation. It resembles a one-man camping tent. You just plug it into a wall outlet and lie down inside. Your body is completely encased in the dome-shaped tent, except for your head.
Like the personal sauna bag, these dome units use FIR emitters to heat the body. They are energy efficient and many users report a satisfactory sauna experience.
Even if you can't afford a cabinet size unit, or perhaps live in an apartment and don't have the space, take a look at these inexpensive and compact portable saunas as a viable alternative.