The Complete Guide to Home Saunas & Sauna Kits
Home saunas add immeasurable benefits to your family's overall health, and are highly regarded for their ability to rejuvenate tired muscles after a tough day - whether that day is spent at the office, at the mall or gym, or coming off a mountain. You can purchase a custom sauna or one of many affordable home sauna kits on the market, and enjoy the luxury of a sauna bath in the privacy of your own home.
Everyone Benefits from a Sauna Session
Home saunas have been used for generations by people all over the world to improve cardiovascular and overall health. Other benefits include: increased blood circulation, rejuvenation of the skin, relief from joint pain, stiffness and muscle fatigue, and even arthritis. And those are just a handful of the many sauna benefits. Many enthusiasts are of the opinion that if you have an active lifestyle, or even a sedentary one, a 20-minute sauna session in your own home is simply the best way to combat daily stress.
Build Your Own Sauna
You can do your own sauna installation if you are the weekend carpenter type. If you don't want to go the pre-fab route using home sauna kits, you can read books on how to build a sauna, draw up your own sauna plans, buy your own building material and an electric heater, and start enjoying the rejuvenating löyly steam in your own custom design.
But if you're not handy with a hammer and saw, do consider purchasing one of those sauna kits. These prefabricated saunas (the panels are pre-cut so there's NO sawing involved!) usually run from $1000 one-person units to some pricey 4-person models. You'll find that home saunas generally sell for less than $2000.
Convenient, Private and Affordable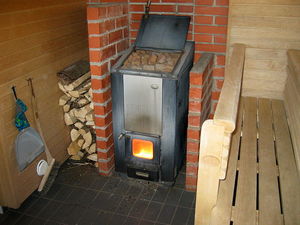 Home saunas should be attractive, energy efficient, comfortable and cozy but not cramped. There's a large selection of home sauna kits available out there, so it's a good idea to take the time to read about the different styles of steam saunas, Finnish saunas, home infrared saunas, as well as beautiful outdoor saunas such as barrel saunas which you can install right off the patio. We'll give you some tips about selecting one that's right for you.
You should also take a look at affordably-priced portable saunas which can get you started for under $300.
In this website, we'll also take a look at the pros and cons of building your own sauna from scratch vs. do-it-yourself home sauna kits, and see what types of heaters (wood fired, electric and infrared) are available, as well as other parts and accessories that are designed especially for home saunas.
---
How the sauna benefits your health: alleviate backaches, sore muscles, anxiety, insomnia, headaches, and depression. Reap the health benefits of saunas with a daily sweating session.
Need help in your sauna vs. steam room decision? Find out which one is right for you. Build your own sauna or steam chamber and enjoy the numerous health benefits.
Prices of home saunas are much more attractive on Amazon.com than in local stores or elsewhere on the Internet. Shop for infrared saunas, heaters and accessories at very competitive prices.
Compare conventional and home infrared saunas. Far infrared saunas offer key advantages and health benefits. Sweat three times as much in energy efficient FIR sauna.
Steam saunas are different from the steam rooms you see at the athletic club. Hot rock home steam sauna ideal way to relax, relieve tension and stress.
Traditional Finnish saunas – the 'poor man's pharmacy'. Recreate the Finland sauna experience with a hot rock sauna you can install at home. Relax and unwind in the löyly steam.
A look at the features of barrel saunas. Build a cedar barrel sauna in your backyard in less than a day. Pre-fab kits simplify construction.
A look at pre-fab outdoor saunas and sauna kits. From choosing the right wood to selecting an energy-efficient heater, the choices are many. Tips on setting up a backyard sauna.
Portable saunas, as easy to move as furniture. From cabinet type 1 to 2-person units to sweat suits, the sauna dome and the sauna-in-the-bag, there's a personal sauna for you.
Custom saunas offer flexibility and reflect your personality. What to look for in custom built saunas, professional advice and installation tips.
Tips on how to build a sauna from scratch or from a precut sauna kit. Save $$$ by building your own sauna. Points to consider before you start.
Nine important tips for drawing up your sauna plans. How to choose the right woods and heater, the most important element of a sauna building plan.
Do your own sauna installation. Tips on installing modular and custom made sauna kits and how to save money by choosing the proper kit for your skill level.
Easy-to-assemble prefabricated (modular) home sauna kits for the carpentry challenged. Custom designed do-it-yourself sauna kits for the handyman.
Wood-fired, electric and infrared sauna heaters, gas and propane sauna stoves. Traditional and high-tech heaters for home saunas, pros and cons of various heating systems.
Essential sauna parts and sauna equipment supplies: doors, benches, thermometers, hygrometers, sauna clocks, control panels, igneous rocks, floor mats.
Ideas for sauna accessories: bucket and dipper, loofa brush, lighting, essential oils and ionizers, entertainment systems and other sauna accessory items.
An introduction to commercial saunas and sweat baths around the world. Learn about local sauna etiquette and customs when visiting a public sauna.
The nude sauna is not a hangout for nudists: naked sauna bathing is a tradition in Finland and goes back for generations. Finnish saunas, customs and etiquette.
Sauna books for the DIY sauna builder. Plan, design and build your private health spa or sauna with the help of these illustrated guide books. Info on sauna detox and therapy.
Our collection of entertaining and informative video clips from around the world.
Sauna photos from Flickr; our image gallery of rustic saunas.
Submit your sauna photos and construction tips. Show us how you built your own sauna - share your expertise.
Here are the best infrared sauna picks for 2016, including the most popular brands and styles of home units.
Amerec steam rooms and steam bath generators: turn your current shower or any small room into an oasis of relaxation; wet heat promotes clearer, softer skin and helps flush toxins out of the body.
Dreamline Saunas carries outdoor, indoor, pre-built, pre-cut and infrared saunas made from European alder and red cedar woods that are durable, attractive, and resist warping and splintering.
Finlandia saunas, pre-cut sauna kits and heaters, some of the best in the industry. Manufactured since 1964, these attractive in home saunas are easy to assemble and reasonably priced.
Finnleo saunas run the gamut from inexpensive portable to high end, luxury styles available in several different woods, but the focus is on their higher end models.
Great Saunas offers over 100 models of the twelve most popular saunas, constructed from red cedar, extremely well-built, attractive. Pre-fabricated models, kits with blueprints, design your own sauna.
Harvia Saunas offer a wide range of complete saunas, heaters and accessories, steam rooms and steam generators. Their wood burning heaters and outdoor saunas continue to be best sellers.
Helo is one of the world's oldest and largest sauna and steam company, dating back to Finland in 1919.
Lux Sauna uses a combination of carbon fiber heaters and ceramic heaters, giving users better coverage than in more typical infrared units. Infrared saunas with exceptional craftsmanship.
Northern Lights Saunas come in attractive designs and their proprietary air circulation system are worth every penny if you spend a few days every week in your sauna.
Sunlighten saunas use SoloCarbon or Carbon Surround technology to ensure even heating of the body. Increases the detoxification effect by seven times that of traditional saunas
Yes, you can melt away unwanted fat in a sauna suit! Inexpensive sauna sweat suits promote sweating and burn calories. Find the best sauna workout suit to achieve your goals.
Sauna belt promises weight loss while watching TV! Sauna heating belt scam companies exposed. Find out what works, what doesn't.
About this site: useful information about all things relating to home saunas.
The Sauna-Talk Blog keeps you up-to-date on the latest additions to this web site. Keep up-to-date on home saunas, tips on building your own sauna.
The Sauna Talk Disclaimer & Privacy Statements
Use the form below to contact the Sauna Talk Team with feedback, comments or questions. We will do our very best to get back to you right away.