Electric Sauna Heaters for Superior Performance
Electric sauna heaters are by far the most popular type for both home and commercial use since they are convenient, have a relatively fast warm up time and accurate temperature control. 
While electric heaters are fitted with a tray for stones so that you can enjoy the tradition of soft löyly, or steam, they do lack the aesthetic beauty of wood sauna heaters. Still, an electric heater can provide a warming, therapeutic sauna experience without the extra element of smoke, so they don't require a chimney or vent.
If you opt for an electric sauna heater you'll first need to choose the correct heater size to fit your sauna. You'll need about 1kw of power for every 45 cubic feet of sauna space and an additional kilowatt (or two) if the sauna will be located outdoors. Using this general guideline, for example, you would need a 6kw electric heater for a 6' x 6' x 7' sauna (252 cubic ft).
Installing the Electric Sauna Heater
Since electric sauna heaters must be connected to your home's electrical system, they are better suited for indoor saunas or saunas that are installed directly outside the house. For more remote locations or mobile spas, you'll need to use either a wood burning or propane heater.
In order to ensure that you are keeping to the proper voltage for your home power supply, it is highly recommended that you have a licensed electrician perform the installation of your electric sauna heater. This way you can be sure that everything is connected properly and with safety in mind.
Generally speaking, a residential sauna uses 240 volts while a commercial unit uses 208. This means you should be able to pull enough power from a standard outlet to run your sauna, but again for safety reasons it's always better to consult with a professional.
Using Your Electric Sauna Heater
Unlike a gas heater, which requires an external air intake, an electric sauna heater does not require any venting. It is by far the cleanest and easiest form of sauna heating though it does have the major drawback of increasing your utility bill.  Still, many people are more than willing to make the tradeoff for the convenience of electric controls.
There are two types of controls in electric sauna heaters: built-in controls in the heater body or a separate control panel mounted on the wall. The wall panel gives you the extra option of mounting the controls outside of the sauna itself so that you can bring your sauna up to temperature before entering. 
Both types of controls have two dials: time and temperature. The timer control is usually either a 60 minute countdown or a 9 hour pre-set that counts down from up to 9 hours and switches on automatically for the last 60 minutes.
With the 9 hour timer, you can set your sauna to turn on an hour before you wake up or before you get home from work or exercising. The thermostat dial lets you control the heat depending on your personal preference. Many control panels can also be outfitted with a light switch to let you turn on the lights inside the sauna.
Digital controls are the latest trend in electric sauna heaters, providing more accurate temperature control and an easy to read display so you can see the current temperature at a glance. Many digital controls can be pre-set to turn on at a specified time and many have add-on sauna lighting kits that plug directly into the control panel. 
Choosing the Best Electric Heater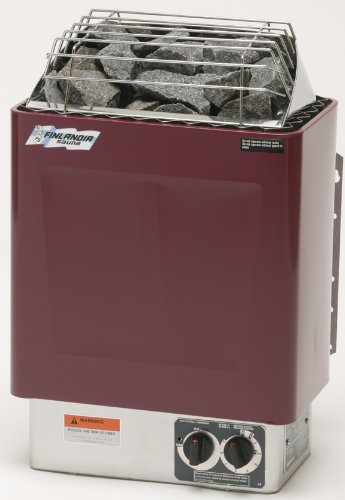 The choice for electric sauna heaters is so varied it's hard to choose from among the well known companies such as Finlandia, Tylo, Polar, Saunacore, Helo, Harvia, Vico, and Amerec.
Each brand has many models to offer and the ultimate choice comes down to your specific needs in terms of the size of your sauna and your power requirements.
Here are four of the best options we've found.
FINLANDIA SAUNA HEATERS
If you take a look at the line of Finlandia sauna heaters, they offer all of the features we mention above, in addition to being made of stainless steel and having a rust resistant exterior coat. (Always look for these two items in better quality heaters.) Finlandia electric sauna heaters range from $800 to $2000 and are excellent for a small to medium-size home sauna.
One of the models that we like is the FLB-80 Sauna Heater. Its made of stainless steel inside and out for durability, and it's easy to install and straightforward to use.
There are two control dials located on the front of the unit, one for temperature and the other for timing, which is a one hour dial with 8 individual intervals. You can also pre-set it to start in an hour or less so the sauna is already nice and warm before you enter.
The exterior is an attractive maroon color and it has a metal frame on top to securely hold the included stones. It measures 16" x 11" x 24" and operates on 8 kw of power, which can accommodate a room up to 425 cubic feet.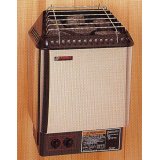 AMEREC SAUNA HEATERS
Another possible choice is the Amerec sauna heater. Reasonably priced around $900-$1000, they feature a roomy rock tray where the rocks are in direct contact with the heating elements - an advantage when you want pleasant steam. The built-in controls feature the thermostat and 9+1 timer (1 hour on, with a 9-hour delay). This is a nice electric heater for any size sauna.
SAUNACORE SAUNA HEATERS

Known for their durability, toughness, power and reliability, Saunacore heaters are some of the best on the market. They are engineered to provide enhanced airflow for quicker heating time.
The KW2SE has a triple stainless steel wall construction to ensure both durability and safety and it will resist stains and corrosion. The unit can be installed with either a corner or wall mount for greater flexibility and it has heat deflectors that redirect to radiant heat collectors for a warm and toasty feel. Easy to operate with a wall mounted digital control pad that includes both time and temperature settings and can be mounted outside the sauna for extra convenience.
There is a top mounted tray to hold the included stones and allow for easy application of water for steam. As with all of Saunacore's models, the KW2SE comes with a lifetime warranty to protect your investment. It measures 15" x 6" x 23.5" and operates on 240 volts. It is a smaller unit, for use in spaces up to 100 cubic feet.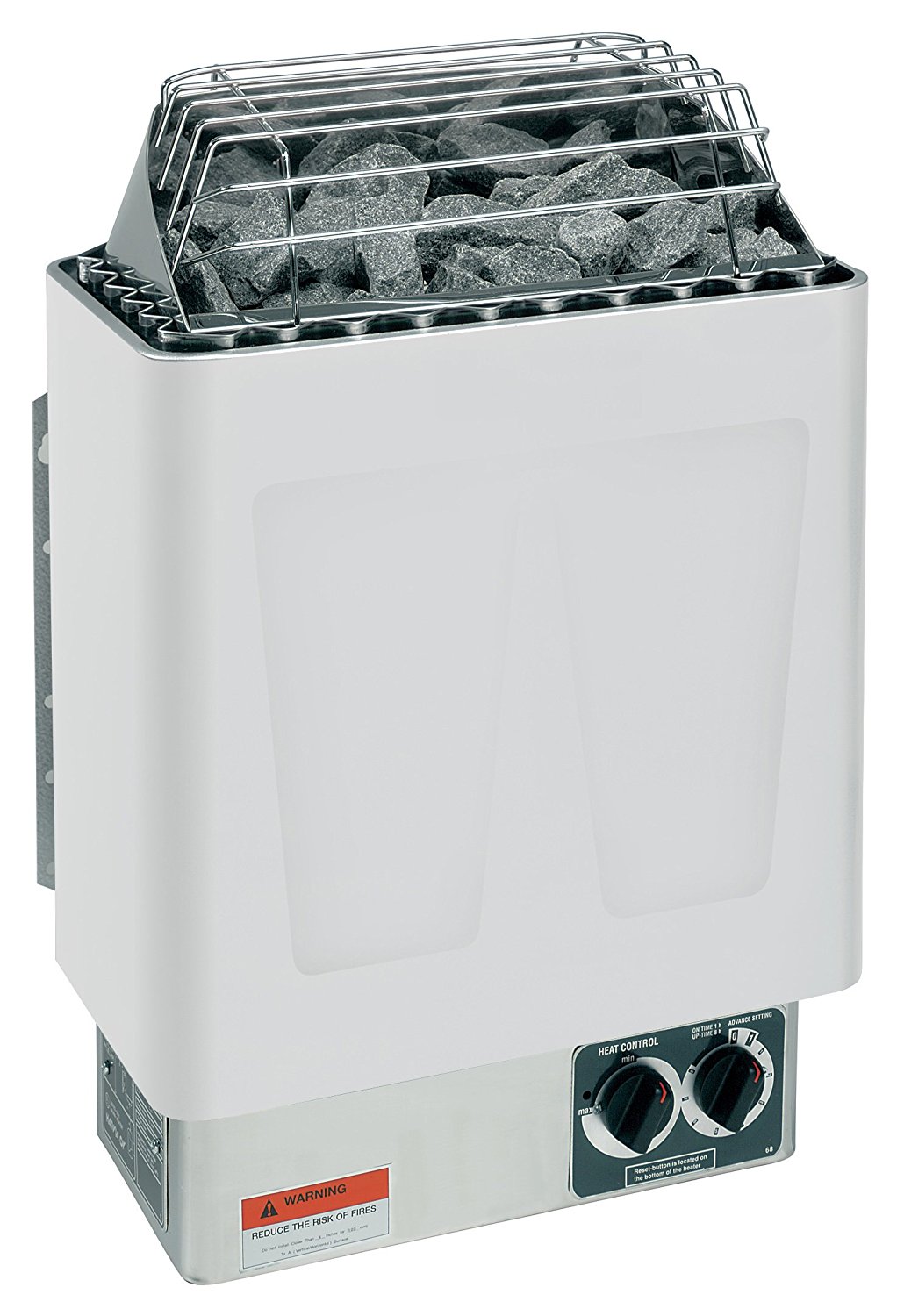 HARVIA SAUNA HEATERS
Saving the best for last, take a look at the large line of Harvia sauna heaters, which range from $700 to $3000. Harvias are made in Finland and while they are considered to be some of the finest commercial sauna heaters on the market, the company also makes home saunas.
These electric sauna heaters are known for their high quality, long life, safety, low energy consumption and consistent superior performance. Their unique design maximizes the air flow which minimizes warm-up time. No other sauna heater uses less energy. 
Harvia sauna heaters were independently tested against competitors and were found to have the highest level of water vaporization (ranging from 84% to 100%) due to the design and placement of the stones. Most other electric heaters showed an enormous amount of the sprinkled water dripping down through the stones and elements to puddle on the floor.
This vaporization feature, plus the thermal insulation on the outer mantle and the constant sauna temperature, makes Harvia electric sauna heaters the best choice for your money.
Electric Sauna Heaters - Bottom Line
While they lack the natural feel of wood burning units, electric sauna heaters are clean, efficient and can produce the steam experience that you expect from a traditional sauna.
With easy to use controls and the ability to be installed inside your home, electric saunas provide many health benefits and have been shown to reduce stress, even for individuals in high stress professions including police and first responders.
Though sauna purists insist that wood gives you the best experience, any type of sauna heater - electric, gas, or infrared – can get the job done just as well and without costing you a fortune.
Make the most of your sauna experience with an easy to program electric sauna heater that puts the control in your hands. It's the best way to enjoy your home sauna without any extra effort - just set the controls, sit back and relax!