Tips for Drawing Up Your Sauna Plans
If you like to do home projects, sauna plans can pose a few challenges. If you are a homeowner with some general carpentry skills you will have more options to choose from when sketching out a building plan, while those who are less handy with a hammer and saw should go with a pre-fab or portable unit.
Planning Your Sauna
The choice of wood will be an important element in your sauna plans. Cedar is an aromatic wood to build with but since some people do not react well to it, there are other durable woods to consider such as hemlock fir, spruce, poplar, and basswood.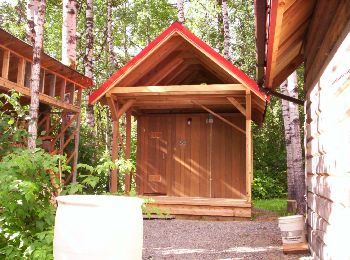 The sauna stove can be electric, gas or propane, or infrared. If you are planning an outdoor sauna, a wood-fired stove is also an option. The sauna heater must be the appropriate size for the room, so make sure you ask a professional if the stove you've selected is right for your sauna building plan.
Points to Consider
Your sauna plans should start with the location of the heater in the room. Some people are rather fussy about where the heater is placed. If you don't particularly like small, cramped saunas where you might feel a bit claustrophobic, and don't like sitting on a bench directly in front and above of the heated stones, plan on building a roomy sauna where you can stretch out a bit.
UPDATE: If you are looking for a high quality sauna kit, we have found a great resource.  Plus, we've arranged for an exclusive discount for our readers.  All you need to do is fill out the form and include SAUNA TALK in your message for significant savings on your kit.

A well-designed sauna should aim to heat the room evenly. And that's not the only point builders should take into consideration. Here are a few tips when planning your sauna: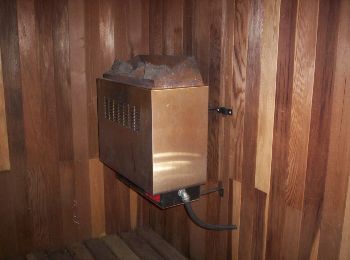 Consult with an electrician or knowledgeable sauna dealer when planning the size of an electric sauna heater. If the heater is too large it will actually produce too much heat for the room.
When you install the wiring, make sure it is rated for 194°F and it should be located in the wall's cooler side.
Plan on installing a foil vapor barrier to keep moisture from collecting inside the sauna's walls.
For the building's wall insulation, you can use conventional fiberglass batts with an R-13 rating. The ceiling will require insulation with a higher rating between R-22 and R-26.
Plan on locating the sauna's fresh air intake vent close to the floor below the heater.
The exhaust vent should be located on the other side to stimulate air movement and keep oxygen at an acceptable level.
Sauna building plans require that the door opens outward. Pre-fab modular units will come with a pre-hung door if you request it.
Benches are located at different heights and are designed that way for a reason. You get different temperatures and moisture levels with the height and distance from the heated rocks. The top bench will experience more heat.
If you are planning on installing an infrared sauna, be advised that there are units on the market that come with rod-shaped heaters which cannot produce enough infrared waves to be effective. Get the flat ceramic heat emitters.
In addition, if you a planning a permanent sauna addition to your house and think you'll also be selling and moving in a few years, you might consider building your sauna handicapped accessible. It should have a level floor entry and a 36-inch doorway instead of the standard 24-inch door.
Finally, when drawing up your sauna building plan, make sure you think about how you'd like to relax in the room. The bench and backrest need to be comfy if you will be sitting most of the time. If you prefer to lie down or if you're a large person, then keep that in mind before making your final sauna plans.