TheraSauna - Over Two Decades of Experience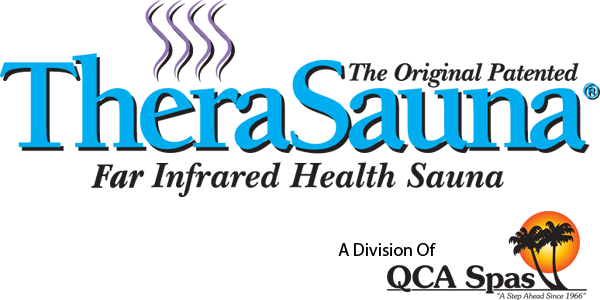 TheraSauna is a name that needs no introduction in the sauna industry today. For over two decades, the all American company has been making high-quality saunas to cater to the needs of a global customer base. It is a part of QCA Spas, one of the oldest spa companies in the country and the one which pioneered the idea of spa therapy to promote healthy living among people. TheraSauna follows the same values and philosophies that made its parent company a household name in the industry.
A Look at the Saunas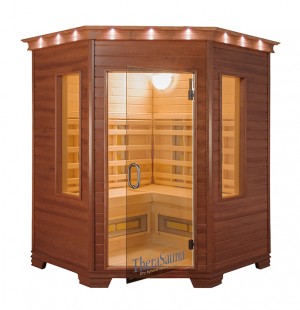 TheraSauna saunas are known for their innovative, hi-tech features. They incorporate a variety of highly advanced, patented technologies like Micron Power Select, Stable Heat, SpectraWave, and seven-day programmable control, among others.
They also come with a number of other features like smoke tempered glass, ceramic TheraMitters, interior and exterior lights, music system with FM radio, built-in backrest and bench, and an easy-to-use control pad.
The company offers two categories of saunas – TheraSauna and TheraSauna Classic.
TheraSauna – The series has five models – a one-two person unit with 8 infrared heaters, a two-plus person unit with 10 heaters, a three-person corner unit with 12 heaters, a four-person straight bench unit with 12 heaters, and a four-person unit with opposite facing benches and 12 heaters.
TheraSauna Classic – The series has two models – a two-person straight bench unit with 8 infrared heaters and a three-person corner unit with 12 heaters.
Apart from these two categories of handcrafted saunas, TheraSauna also offers to make custom saunas, which are built to your specific needs.
The Pros
TheraSauna is a good company, and has made it to our Top Infrared Sauna list for several years in a row now.
The Stable Heat technology is a unique feature which is found only in TheraSauna products. It ensures that the heaters produce infrared waves throughout the session. Normally, saunas turn off once they reach the preset temperature. It results in a drop in surface temperature after a while, which affects the output of infrared waves.
The Stable Heat system, on the other hand, does not turn off completely even when the preset temperature is reached. It continues to produce a slight trickle of electricity to ensure the surface temperature is maintained at the optimum level for an even, consistent infrared output. What this means is that TheraSauna saunas emit more infrared waves than other brand saunas in the same timeframe.
The Micron Power Select feature allows you to set the desired level of infrared output from each heater zone. You can set the heater at your back to full power and the one at your feet to half power, depending on your needs and comfort level. If there are two or more people, each can adjust the infrared output of the heaters in their own corners and enjoy a highly personalized sauna experience.
The SpectraWave technology enables the sauna to produce a full spectrum of infrared waves – near, middle, and far – for increased health benefits.
The 7-day programmable control feature allows you to set the exact time at which you want the sauna to turn on – from Monday to Sunday. You do not have to turn on the sauna and wait for it to warm up every time you want to use it.
TheraSauna saunas feature the proprietary ceramic TheraMitters, which are known for their high efficiency. Ordinary tubular ceramic heaters generally contain wire and metal, which are coated with ceramic, and have a poor efficiency rate. TheraMitters, on the other hand, are made of solid ceramic and have a 96% efficiency rate, which is among the highest in the industry. They can operate at various surface temperatures and continue to produce infrared waves in the 9.4 micron range, which is the optimal range at which the human body can absorb infrared waves.
The saunas have chromotherapy lighting, which enhances the effects of infrared therapy and has a positive effect on your physical and mental health.
TheraSauna offers a number of accessories like ionizer fan, backrest, footrest, cup holder, smart chromotherapy light with infrared remote, and an accessory kit which includes a towel hook, back rest, magazine rack, and drink holder.
The saunas are handcrafted to perfection and look very stylish. All the saunas are manufactured and assembled in Iowa and proudly bear the 'Made in the USA' tag. TheraSauna is known for its adherence to strict standards. It is one of the few companies that have been tested and approved by reputed agencies like CSA (Canadian Standards Association) and CE (European Conformity).
The Cons
TheraSauna offers a wide range of advanced features, many of which are not available in the TheraSauna Classic series. The Classic saunas lack features like SpectraWave, Micron Power Select, 7-day programmable control, and the MPS touchscreen control with built-in ambient sound therapy. All these features are available only in the TheraSauna series, for which you have to pay more.
TheraSauna only offers two categories of saunas, comprising a total of seven units. So, your options are limited in a sense. There are many other brands which offer a large number of saunas in different sizes and prices and with different sets of features.  
The Bottom Line on TheraSauna
TheraSauna brings some exciting, innovative technology to the table in an effort to enhance your sauna experience. There is no doubt that the inclusion of such features will result in increased therapeutic benefits in the long run. In that aspect, TheraSauna products are certainly as good as any on the market today.
It should be, however, noted that some of these features are not available in the lower-priced saunas. So, if you are on a budget, it is advisable to compare the features available in saunas from different brands at the same price point before making a decision.
To check out the latest offerings, just visit the link below.  If you see something you like, ask for Tim and tell him Sauna Talk sent you. He will give you an exclusive discount!
Visit TheraSauna for special pricing and full model info