Sauna Suit Reviews - Do They Really Work?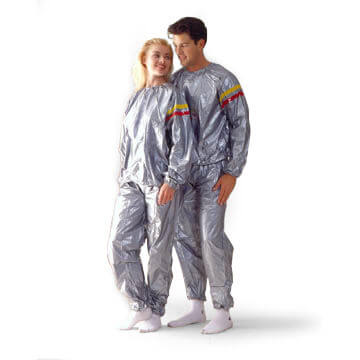 People have been employing sauna therapy for generations to cleanse their bodies, lose weight, improve circulation and just generally feel better. There is a lot to be said for the process, which is why the sauna industry is so popular. From sauna rooms at gyms and spas to home sauna units, there are many ways for people to enjoy the benefits of sauna therapy.
One of the more affordable, yet controversial, of those methods is the sauna suit. As their name suggests, these are pieces of clothing, some resembling jogging suits others that look more like diving wetsuits, which allow you to get all the benefits of sauna therapy as you work out or just go about your regular daily activities. They are available in a number of styles and fabrics and can be easily purchased and readily used by anyone.
Many people have a negative response to the idea of sauna suits, mostly because they associate the term with the early rubberized models known as "rubber suits". Granted, these early suits were largely unattractive and uncomfortable but the sauna suit has come quite far in recent years. The result is a wide variety of suits in neoprene and other more breathable fabrics that allow you to get all of the positive effects of sauna therapy without the discomfort.
Not surprisingly, a subject like this brings up many important questions: Does a sauna suit work? Is a sauna good for weight loss? These and other questions are certainly valid and before you zip up your suit and start working out it is worth carefully considering all of the possible benefits and drawbacks of these suits to be sure that you're making the right choice for your health.
What Do Sauna Sweat Suits Do?
Basically speaking, a sauna suit is a track suit or piece of workout clothing that uses thick, waterproof fabric to replicate the heating effects of a traditional sauna. When a person wears a sauna suit or sauna vest, they are encasing their body and trapping body heat, causing them to sweat excessively. The increased sweating can lead to reduced weight and cleansing of toxins from the body.
Originally, sauna suits were worn primarily by competitive athletes like boxers, weightlifters and MMA athletes who need to meet specific weight limits for competition. Working out while wearing a sauna suit was a quick and easy way to shed excess pounds and meet their specific weight qualifications. Today, these suits are being used by more people as a simple way to enhance their regular workouts and improve their overall health.
Seeing how they worked for these athletes, many people started asking is a sauna suit good for weight loss? In this day and age, any type of device or program that can promote weight loss will make people sit up and take notice, so this was no exception. The answer, however, is not as straightforward as you might think.
While wearing a sauna suit can certainly lead to weight loss, since that loss comes as a result of sweating it is really only short term. As soon as you drink to replenish the liquids you've sweat out that weight will return. In order to achieve long term weight loss a sauna suit needs to be incorporated as part of an overall diet and fitness program.
More importantly, this type of rapid weight loss can be extremely dangerous, as noted by the Centers for Disease Control and Prevention (CDC).
Pros and Cons of a Wearable Sweat Suit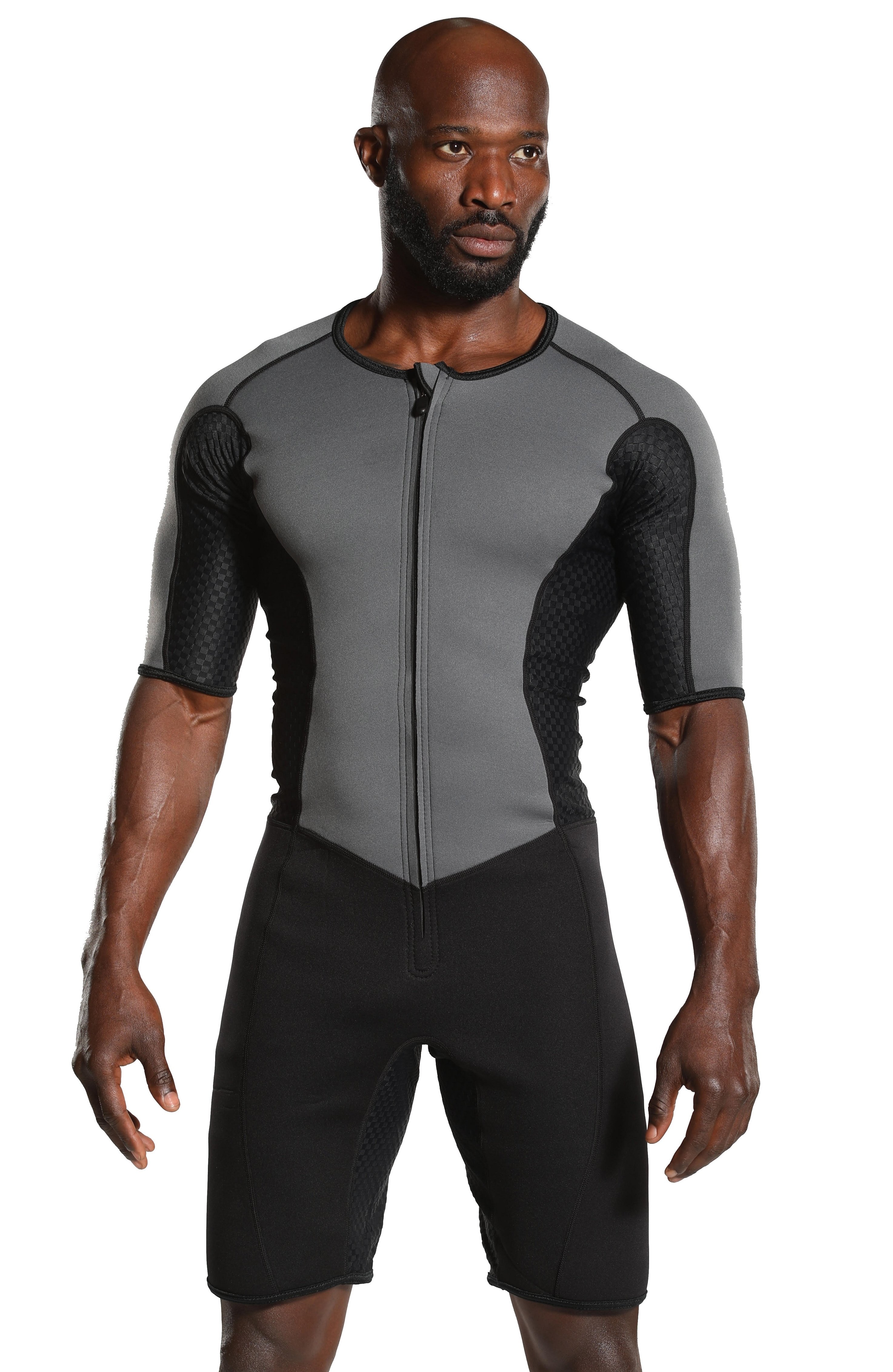 That being said, there are certainly both acknowledged benefits and drawbacks to wearing sauna suits and it's important be aware of them before you purchase a suit. 
The benefits were laid out in the results of a 2017 study sponsored by the American Council on Exercise (ACE), which separated subjects into a group that wore sauna suits while working out and a group that didn't. The study showed that the group wearing the sauna suits experienced many health benefits.
Simply put, here are some of the basic pros and cons of wearing sauna suits.
Sauna Suit Pros
Boosting your metabolism – just like spending time in a traditional sauna, wearing a sauna suit helps to amplify your metabolic rate, which can in turn help with weight loss.
Recovering lactic acid – when you workout, your body builds up lactic acid and that can lead to muscle aches and soreness which slow your recovery time. By wearing a sauna suit, you can promote the loss of lactic acid and prevent that muscle soreness.
Quick weight loss – as mentioned above, by increasing the amount that you sweat sauna suits can result in quick weight loss.
Improving your circulation – as you work out in a sauna suit, your heart rate naturally increases and that in turn dilates the blood vessels, which can lead to improved function of the circulatory system.
Retaining heat – this can be a particular benefit when you work out during cold winter months, as staying warm will allow you to work out for longer periods.
Promoting Detoxification – the other major benefit of saunas in general is that by increasing the amount you sweat they help to rid your body of built up toxins. This holds true for sauna suits as well.
Sauna Suit Cons
Overheating of the Body – this is one of the major dangers of wearing a sauna suit, as elevated body temperature can lead to fatigue, weakness, fainting and unconsciousness. It is important to carefully regulate your body temperature by limiting the amount of time that you wear your sauna suit, starting with no more than 15 minutes at a time and slowly working your way up to no more than 45 minutes.
Dehydration – losing all of that fluid by sweating can naturally lead to dehydration so you should always be careful to replenish your fluids during your workout. Dehydration can lead to weakness, muscle contractions, fainting, headaches and disorientation so it is nothing to be taken lightly.
Kidney Damage – if you don't properly hydrate while wearing a sauna suit, you can leave yourself open to potential kidney damage due to the loss of fluids and electrolytes. You can mitigate this problem by drinking plenty of water and sugar-free sports drinks to replenish both fluid and electrolytes.
What To Look For in a Sauna Suit
Now that you have a better understanding of what a sauna suit can do for you, you need to know exactly what to look for before you choose a specific suit. In fact, not all sauna suits are created equally and it's important to recognize all of your options so you can select the one that best fits your needs.
Among the factors to take into consideration when choosing a sauna suit are the fit, material, ventilation, type of closure, extras such as pockets and of course, price. There are a wide variety of sauna suits on the market, most made from either PVC, Nylon or Neoprene.
PVC is a plastic-based synthetic material that is the least breathable of all the options, making it more difficult to regulate your body temperature.
Nylon is another synthetic that can also trap in a lot of heat but it is also more durable than PVC.
Neoprene is by far the most popular choice of material as it is much more breathable and has more flexibility than PVC or Nylon, which allows for a better range of movement during your workout.
Getting the proper fit is essential, as you want your sauna suit to be snug but not too tight so that you have a full range of movement. Suits come in a range of sizes, so you should always consult the manufacturer's information to ensure you're getting the right fit.
Many suits offer mesh panels for ventilation in key areas including the armpits, crotch and upper thighs, that allow for breathability so you can avoid overheating and dehydration.
A comfortable closure is an important part of any sauna suit or sauna vest as it can directly affect the fit. You don't want the closure to dig into your skin, so you should opt for a suit with a front zipper or hook-and-look closure or even a model that slips on without a closure.
Some models also have pockets so that you can keep your valuables with you during your workout.
Our Top Sauna Suit Picks For You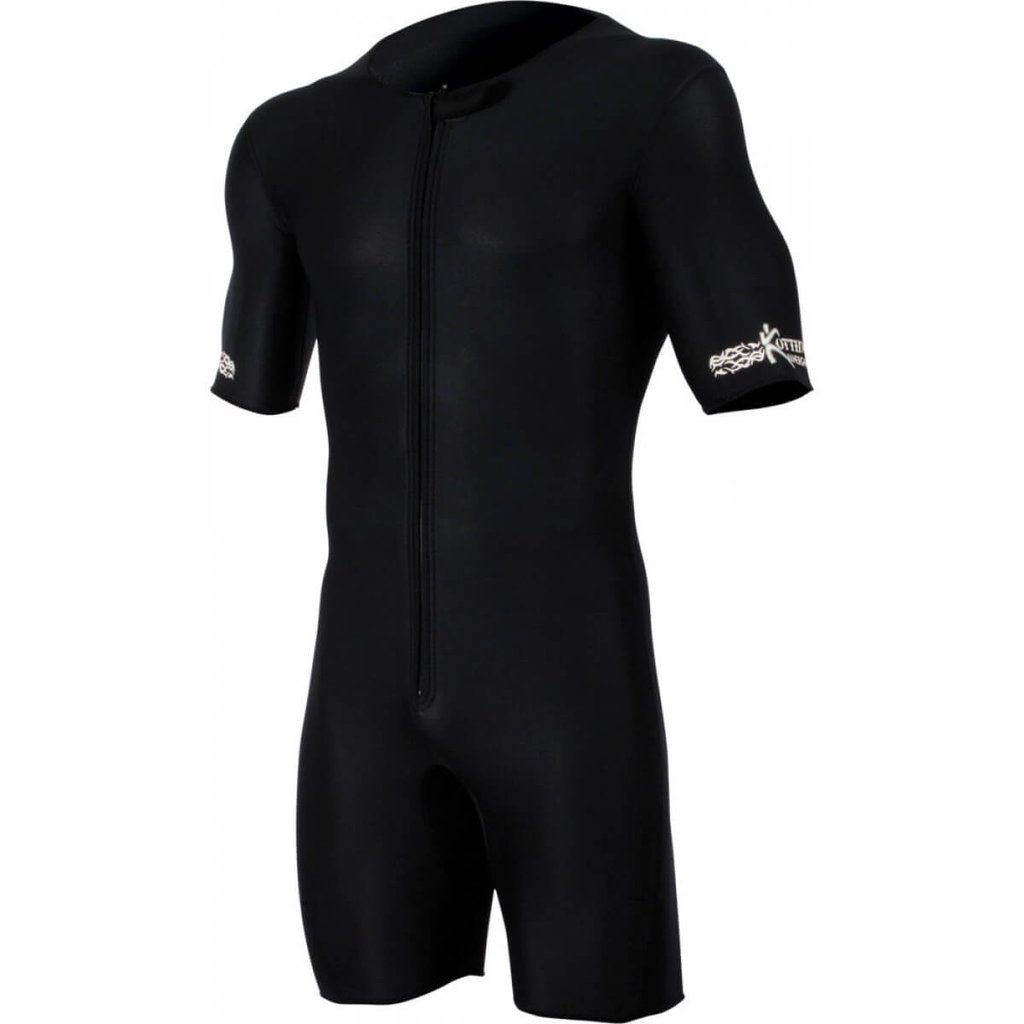 With those specifications in mind, here are a couple of sauna suits that we recommend:
Kutting Weight Sauna Hoodie Body Toning Clothing – Unisex Fat Burner
Kutting Weight is one of the top names in sauna suits and this is just one of several models that they offer. Made from 1.5mm SweatTech elastic neoprene, it uses scientifically proven technology that is designed to increase metabolism by up to 20.8% and promote weight loss by up to 40%.
This is a unisex design that is streamlined for ease of body movement and includes a hood for extra effectiveness in trapping body heat. The hoodie retails for $59.99 and matching pants for $49.99.   
4Fit Inc Neoprene Sweat Shirt Rash Guard Sauna Suit
If you have sensitive skin, then this model from 4Fit Inc is a great choice. It's made from extreme Flex DS Neoprene and has breathable mesh panels in the armpits and crotch.
It zips up the front making it easy to get on and off and offers great flexibility and freedom of movement so you won't be hampered in your workout.
It comes in a range of sizes from small to XX Large and at just $37.99-$45.99 is affordable for almost any budget.
DEFY Sports Heavy Duty Sweat Suit Sauna
This is a heavy duty model for those looking to work up a serious sweat. It's made from PVC and Nylon coated material that resists tears for maximum durability. Elastic cuffs at the wrists, ankles and waist enhance the sauna effect, increasing your sweat output by up to 80%. The rubber-based inner lining ads to the effect, further enhancing weight loss benefits. Available in sizes from X Small to XXX Large, it retails at $42.99-$45.99.
FeelinGirl Neoprene Sauna Suit Tank Top Vest with Adjustable Waist Trimmer Belt
This sauna vest is designed specifically for women and includes a tank top with racer-back for maximum comfort and an adjustable trimmer belt. Both pieces are made of 80% Neoprene and 20% Nylon and they provide excellent compression for firm control.
The vest has a front zipper closure and the belt has an adjustable Velcro waistband so you can be assured of the perfect fit.
It comes in a wide selection of colors in sizes ranging from X Small to 7 X Large and is very affordable at prices as low as $14.58.
What's the Bottom Line?
If you want the benefits of a traditional sauna while you work out, then a sauna suit may be your answer. When used properly they can provide a range of health benefits and can become an effective part of your overall diet and exercise routine.
Shop around to find a sauna suit or sauna vest that fits your needs and you'll be sweating off the pounds in no time.