Sunlighten Sauna Reviews - Should You Buy One?
Sunlighten Sauna once again makes our Top 5 Infrared Saunas list this year, as they continue their commitment to providing the highest quality and innovative design.
Sunlighten manufactures both 3 in 1 (near, mid and far IR) and far infrared saunas.
While most other infrared units are far infrared only, Sunlighten emphasizes their unique niche as a provider of 3 in 1 infrared and customizable programs with varying degrees of each IR wavelength.
This offers numerous health benefits, including boosting the immune system, detoxification, pain relief, weight loss, improved circulation, blood pressure reduction, and even promotes faster wound healing.

Unlike many of the others out there, the company backs up all of their claims with actual proof, which is very refreshing.
Sunlighten saunas have been featured on the Dr. Oz Show, Ellen, Oprah Winfrey and recently in the New York Times & Wall Street Journal.
Let's get into our reviews to see what these saunas are all about...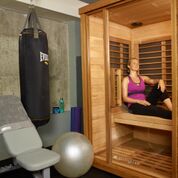 Sunlighten Infrared Sauna Technology
Sunlighten did extensive market research that contributes to the design and build of each of their sauna collections, and it shows.
They have patents on the 3 in 1 sauna, meaning all three infrared wavelengths, and a high emissivity patent for having the most far infrared (fIR) in a sauna.
You many come across other companies that claim to offer all three wavelengths in their saunas, but more often than not, it's simply not the case.
Their most popular series, the mPulse®, features a stylish, contemporary design that sets it apart from almost any other indoor sauna.
The mPulse is also one of the greenest saunas on the market. It's made from FSC certified softwoods, is energy efficient, and uses bamboo carbon heater covers.
You can check out the current lineup of Sunlighten Saunas here.
(If you mention our site, Sauna Talk, you can save up to $600 on a new sauna!)
All saunas made by Sunlighten feature ergonomically designed benches and back supports that are deeper and higher than those in standard saunas for added comfort and support. 
Most models also have removable benches so that users can practice sauna yoga, one of the newest trends in combining sauna with exercise.
The most unique feature offered by Sunlighten is their 7 different wellness programs, allowing you to select the ideal wavelength for the specific health condition you are looking to treat.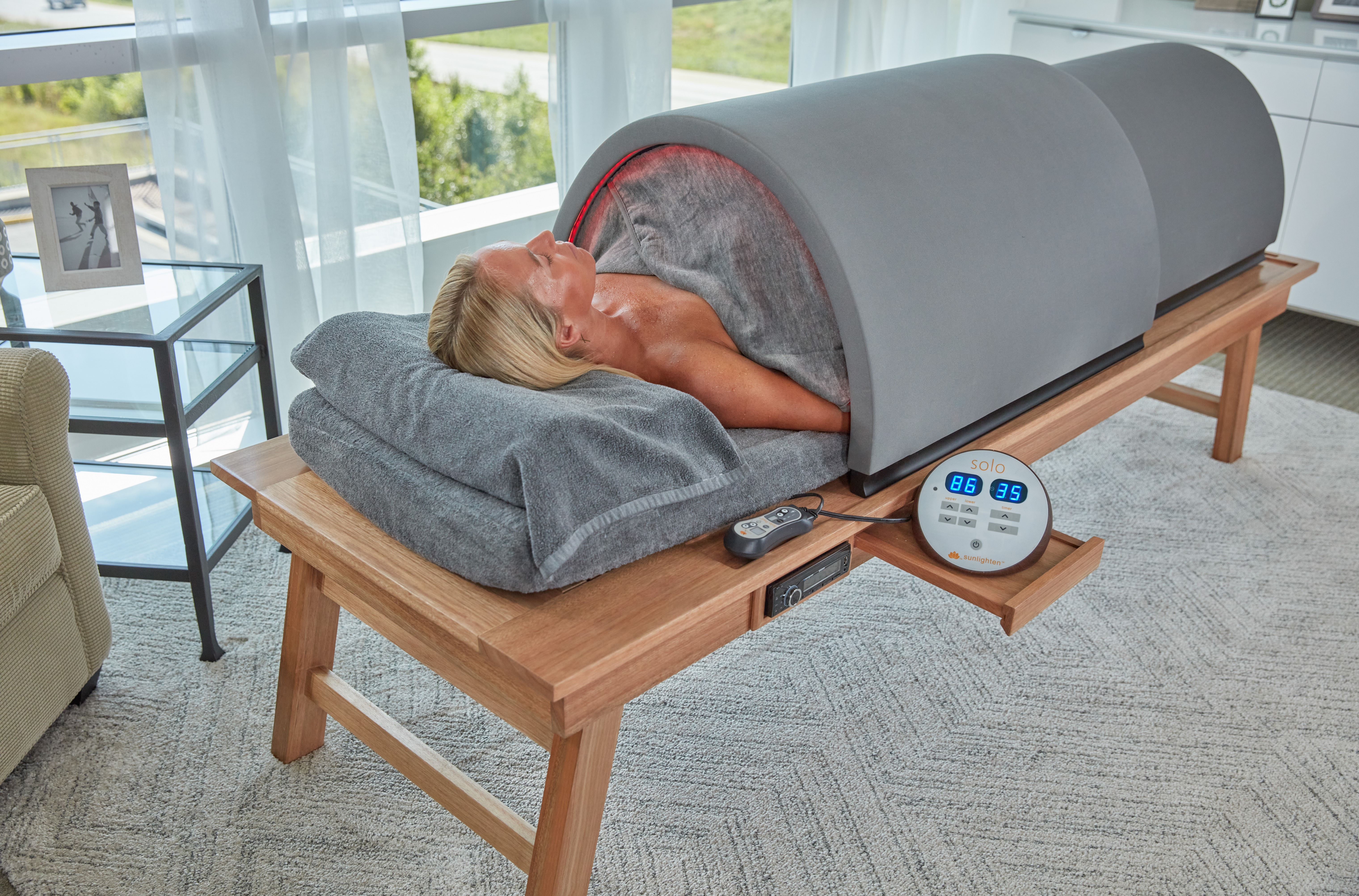 Sunlighten Sauna SoloCarbon™ Heaters
Sunlighten infrared saunas use the unique SoloCarbon™ heating system for their far infrared units and Solo Carbon 3 in 1 for their far, mid and near IR units.
The company claims this increases the detoxification effect by seven times that of traditional saunas. Their proprietary blend of wavelengths can't be found in other infrared saunas.
All Sunlighten systems use SoloCarbon technology to ensure even heating of the body by measuring the surface temperature rather than ambient heat like some of the lower quality heaters out there.
A Look at the Current Saunas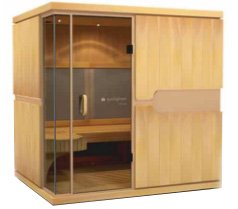 As of the writing of this Sunlighten review, the company had a number of different offerings.
You can choose from the mPulse, Signature & Amplify infrared cabin saunas, as well as the portable Solo System, custom saunas & the LumiNIR handheld light therapy device.
Let's take a closer look to see what each has to offer....
mPulse Collection
The mPulse saunas is the flagship series, and they are first and only infrared saunas that offer 3-in-1 Infrared, or all three wave lengths as mentioned above.
Here you have the Aspire, Believe, Conquer, Discover & Empower, accommodating 1 person all the way up to 5 people, respectively.
(Notice that the names also go in alphabetically order.)
The base mPulse Aspire gives you 6 far infrared heaters, 4 mid infrared heaters and 3 near infrared LEDs. As you move up to the larger units you get more heaters as there is more area to cover.
The 6 wellness programs are guided by the Android control tablet, which also includes apps and various other features such as customization and scheduling?

Chromotherapy light therapy and a premium sound system are included in all Sunlighten cabin saunas. The Solo System has Chromotherapy but no sound system.
Options include Acoustic Resonance Therapy that uses sound vibration to augment relaxation, as well as a variety of accessories.
In addition to the 7 wellness programs mentioned above, you also get a 10.1" Android touch screen control panel with apps, heart rate and calorie monitoring, customization and scheduling.
Options include mood lighting and a premium sound system.
The mPulse Collection is available in basswood, cedar and eucalyptus.
UPDATE: In June 2023 the company added red light therapy to all mPulse saunas. This makes them even more beneficial to your health.
(Learn more about best woods for saunas here)
Signature Collection
The Signature saunas are closer to the ones you find from most of the top manufacturers...they are far infrared saunas only, as opposed to 3-in-1 like the mPulse Series.
Here you have the more straightforward named Signature I, II, III and IV, with room for 1, 2, 3 & 4 people, respectively.
It comes with the same mood lighting and sound system option as the mPulse Series, but is only available in basswood and cedar, not eucalyptus.
Amplify Collection
The Amplify saunas are the newest options in the Sunlighten sauna lineup, full spectrum models that with an additional two heaters to create more of a traditional sauna experience.
One of the drawbacks of infrared saunas is that they don't really get that hot...some people love that fact, others wish they could sweat like they can in a traditional sauna...well now you can!
The Amplify II and Amplify III heat up to 165 degrees, which is considerably warmer than a regular infrared, and can accommodate 2 and 3 people, respectively.
Check out all three collections here, and don't forget to mention Sauna Talk to save up to 600!

Solo System

Sunlighten's most unusual offering is the Solo System, a portable sauna that looks somewhat like an elongated moving dome.
It features the same SoloCarbon far infrared heating, at a fraction of the price.
The two curved sections fit over the body while you lie the Solopad. It can be converted from full body to lower body use for more targeted treatment.

You can also realign it so that you can sit up with your legs extended and still get the full effect. No other manufacturer offers this kind of versatility in a personal, portable sauna.
Another unique feature typically only found in traditional infrared sauna rooms is color therapy with 9 different color options.
LumiNIR Wand
Also relatively new like the Amplify Collection, the LumiNIR Wand is a hand held tool offering four LED options to rejuvenate your skin: cell renewal, anti-aging, clear skin and pain relief.
We're going to take a closer look at this one to learn more about its benefits.
Custom & Commercial Options
Sunlighten also offers custom saunas, which are created specifically to your dimensions. You get a custom sauna kit which is either far infrared only or full spectrum heat, control panel, premium Eucalyptus wood, benches, guide, diagrams and a user manual.
They also make all of their infrared saunas available for commercial use, so if you are considering one for your business a Sunlighten sauna might be a good choice for you.
What About Sunlighten Prices?
Sunlighten sauna prices are typical of what you'll pay for a higher end sauna. These are not your low quality made in China units that you can get for under $1,000. Those offer little if any benefits to your health.
The full Solo System starts at about $3,300, and the price depends on the particular sale that is going on and any additional discounts that you get.
The Signature Series, which is far infrared only, starts at about $4,800 and goes up depending on the size, the wood choice (basswood or cedar) and whether or not you opt for ART, or Acoustic Resonance Therapy.
The Sunlighten Sauna mPulse Series and Amplify Series, which are their full spectrum and 3-in-1 lines, respectively, starts at around $5900 and goes up from there.
Is Sunlighten a Good Choice?
From our research Sunlighten has emerged as one of the best sauna companies out there today.  We've spoken at length with the company many times and they are always very forthcoming with information about their products.
We also like the fact that they have actual patents on their technology, not pending patents or none at all like some of the other companies we've looked into.
If you are in the market for a very high quality sauna for your home or gym, we highly recommend Sunlighten.
You can get more information on all of their saunas here, and don't forget to mention Sauna Talk to save up to $600!