Cedar Barrel Saunas - The Best Choice For Outdoors
Without a doubt, barrel saunas are the coolest design you'll find in outdoor saunas. With their round drum shape, they look like a quaint workshop or perhaps a children's playhouse as they sit so elegantly just off the back patio, in the garden, or at the side of a mountain cabin. The beautiful designs of these cedar barrel saunas are so inviting that they look good no matter where they are set up.
The reason for the circular design is for function, not just appearance. With rounded walls, these barrel shaped saunas are able to boast better circulation of heat, as well as less wasted heated space, since you aren't heating the corners as you would do with a box shaped sauna.
Cedar barrel outdoor saunas are free-standing, portable, and come with a full door on one end of the bent-barrel stave shape, as well as optional windows. They can seat four to eight people and can come with an outer room for changing clothes, or even a veranda or porch.
A Look at the Features
Choose the Right Wood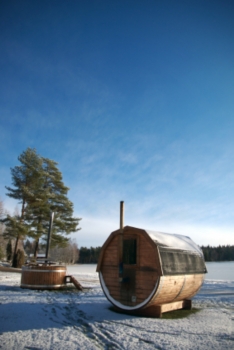 When shopping for your perfect barrel home sauna, there are a few things to look for. Starting with the wood, the construction must be made of kiln-dried wood if it is to stand up to harsh winters and blistering hot summers.
Many of these saunas are constructed with solid red or white cedar wood so that they look and smell great. Cedar is a popular choice for barrel construction; it's aromatic and contains no natural toxins, and it's bacterial and fungal resistant. It is also lightweight and dimensionally stable so it holds up to the weather without bowing or sagging.
Ventilation
A fresh air vent is a desired feature but if the barrel unit does not have one, you can leave the door slightly open after each use while the sauna cools to prevent the interior wood of the cedar barrel from cracking and cupping. It also preserves the cedar smell.
Check out the Popular Almost Heaven Barrel Saunas Here!
Heater Options and Accessories
As for the heater, barrel saunas come with a few choices. Electric is the standard, but several companies offer wood or gas stoves as an option. There are also infrared models on the market which have many advantages over traditional type heaters. All barrel cedar saunas will include the control panel, heater and rocks, and many companies like to include some complimentary sauna accessories, such as the water bucket and ladle.
Bi-Level Seat Structure
Here's another tip: you'll also want to shop for a roomy unit that offers two levels of seating. Some barrel designs only offer one set of benches. In all saunas, the upper bench gets hotter air than the lower one.
Easy Set Up
You'll find these saunas for sale in easy-to-construct "pre-fab" units. Since barrel saunas don't need water, plumbing hook-ups, or drains (no sauna does), you should be able to set up one up by yourself in less than a day. All it takes to assemble one of these barrel kits is a drill, square, level, screw driver and hammer, while others come complete as a unit; you just set the cedar barrel down onto the cradle.
The only draw back for many people will likely be the price. While an indoor home sauna can be set up for under $2000, barrel cedar saunas have a price range of $4500 to $9000.
---