The Best Barrel Saunas For Your Home
While saunas come in many shapes and sizes, one of the most unique by far is the barrel sauna. As the name suggests, these saunas are designed to look like a giant barrel and just like traditional barrels, they are built using rounded wooden staves held together with metal hoops.
Because of their rounded shape, they have a whimsical look that makes them particularly inviting as outdoor saunas, as they can make a unique addition to any landscape design. They look like a quaint workshop or perhaps a children's playhouse and are a perfect accent to your back patio, garden, or beside a mountain cabin. 
Benefits of Barrel vs. Traditional Saunas
Of course, an outdoor barrel sauna is about more than just looks. That unique circular design is just as functional as it is attractive. There are several specific reasons why a barrel shaped sauna is a more practical choice than the traditional square shape...
Faster Heating

 – a wood barrel sauna has the same amount of usable air space as a square sauna but the rounded walls cut down drastically on unused space. This means it can reach peak temperature much faster because the heater isn't working to heat that extra, unused space.

Even Distribution of Heat

 – The rounded walls of a barrel sauna help to distribute the heat more evenly as they actually promote heat circulation. Unlike square saunas, where the hot air rises and gets trapped at the top, in a barrel shaped sauna the hot hair is pushed back down as new heat rises, allowing the hot air to reach lower into the sauna.




Stands Up To Temperature Changes

 – All types of wood expand and contract naturally in response to temperature changes. The design of barrel saunas is meant to accommodate that natural expansion, unlike traditional square saunas that use a lot of hardware for fastening such as nails and screws, which can impede the movement of the wood and cause it to break down over time.


Requires Little Maintenance

 – Any sauna used outdoors will have to stand up to weather extremes, from rain to snow, and a wood barrel sauna is perfectly equipped to hold up against any weather with very little maintenance. The rounded sides allow water and snow to naturally run off so there is no worry about pooling or roof collapse from excess weight.




Energy Efficient

 – The efficient use of air space in a barrel sauna means it requires less energy to heat the room, which is good for your utility bill. Plus the wooden staves provide excellent natural insulation so the exterior of the sauna remains cool to the touch up to the very top.



Like all saunas, an outdoor barrel sauna can provide plenty of health benefits, helping with everything from hypertension to chronic pain. There's no wonder why outdoor saunas in particular have been so popular in places like Scandinavia for generations. So the entire family can benefit from this enjoyable cleansing experience.
There are many makes and models of barrel sauna for sale, with a range of features to make them even more eye-catching as well as comfortable. You can include an outer room for storing and changing your clothes, an outdoor veranda or porch, or even a window to take advantage of the beautiful view. 
You can get your sauna pre-made or buy a barrel sauna kit. They are easy to assemble, portable and free-standing, and come in a range of sizes to accommodate anywhere from four to eight people.
Check out our top pick Redwood Outdoors on Sale Now!
(SAVE $250 with code: SAUNATALK250)

A Look at the Features
There are several key features that you'll want to take into consideration when shopping for a barrel sauna. Let's take a closer look at them.
Wood

When you're talking about an outdoor barrel sauna, one of the most important factors is the wood. Since your sauna will be exposed to the elements, you need to ensure that it can stand up to everything from winter cold to the summer sun.
Specific needs will vary depending on the climate where you live but in general you want a kiln-dried wood that will be sturdier and more durable. 
There are many types of wood used in sauna construction and you'll want to consider all of your options before making your choice.
Three of the more popular choices for a wood barrel sauna are Nordic Spruce, Hemlock Fir and Cedar. Nordic Spruce and Hemlock Fir are two of the most affordable types of wood and both are attractive with a light color and small knots but Hemlock Fir in particular is not very decay-resistant, which means it's not as good for outdoor use.
By far the best choice for an outdoor barrel sauna is Cedar. Whether you choose solid red or white cedar, you'll end up with a sauna that is as durable as it is beautiful. Not only is Cedar lightweight and dimensionally stable, allowing it to stand up to all weather extremes, it also contains no natural toxins and is bacterial and fungal resistant. Its fragrant aroma also makes it pleasant to use and provides the added benefit of being insect repellant.
Ventilation
Fresh air circulation is important for your barrel sauna in order to keep the interior wood from cracking and cupping when it's regularly exposed to heat and to preserve the cedar smell. A fresh air vent can be easily added but if it is not an included part of the barrel sauna kit, you can simply leave the door slightly open after each use while the sauna cools to achieve the same effect.
Heater Options and Accessories
After the wood, the next most important feature of your barrel shaped sauna is the heater. Again there are several types of heaters to choose from. Ultimately, the type of heater is a personal choice but there are a few things to keep in mind when comparing them.
While electric heaters are the standard, they actually work best for saunas that are 6' x 6' or smaller, which wouldn't be able to handle the heat from a wood heater. For larger saunas, wood or gas stoves can provide a great alternative.
Wood and gas tend to produce more heat than electric heaters and many people enjoy the cozy ambiance and traditional feel of a wood or gas stove.
Another option for your barrel sauna is infrared heating, which provides a gentler heat source at lower temperatures for a completely different feel. There are several different types of infrared heater available, each of which can provide a comfortable and healthy experience.
Aside from the heater, other common features of a wine barrel sauna include the control panel, heater and rocks, and sometimes additional complimentary sauna accessories, such as the water bucket and ladle.
Bi-Level Seat Structure
A final feature to bear in mind is the seat structure of your barrel sauna. Depending on the make and model you may be able to get single or bi-level seating. In general, you'll probably want to opt for the roomier models that offer two levels of seating as the upper bench of any sauna will get hotter air than the lower one.
Check out the top rated barrel saunas on sale now!
(SAVE $250 with code: SAUNATALK250)

You'll find these saunas for sale in easy-to-construct "pre-fab" units. Since barrel saunas don't need water, plumbing hook-ups, or drains (no sauna does), you should be able to set up one up by yourself in less than a day.
All it takes to assemble one of these barrel kits is a drill, square, level, screw driver and hammer, while others come complete as a unit; you just set the cedar barrel down onto the cradle.
Where To Buy a Barrel Sauna
There are a number of different companies that offer barrel sauna kits and complete models. Your choice of sauna will depend on the number of people you need to accommodate, the specific health benefits you want to experience and the weather conditions in your area. 
Some of the most popular brands include:
Top Choice:

 Redwood Outdoors
Redwood Outdoors has a wide selection of classic barrel saunas and porch barrel saunas in red cedar and thermowood.
You can choose from 6kw or 8kw high-quality Harvia electric heaters or wood stoves, whichever you prefer.
Check out the full range on sale now!
(SAVE $250 with code: SAUNATALK250)
Runner Up:

 Almost Heaven
One of the original barrel sauna companies, Almost Heaven has a number of great options to choose from in a variety of woods including rustic cedar and rustic fir.
The barrels can accommodate from 2 up to 8 people depending on the style, and you can choose either wood burning or electric heat, whichever you prefer, along with a number of other customization options.
Check out the full range on sale now!

Runner Up:

BZB Cabins & Outdoors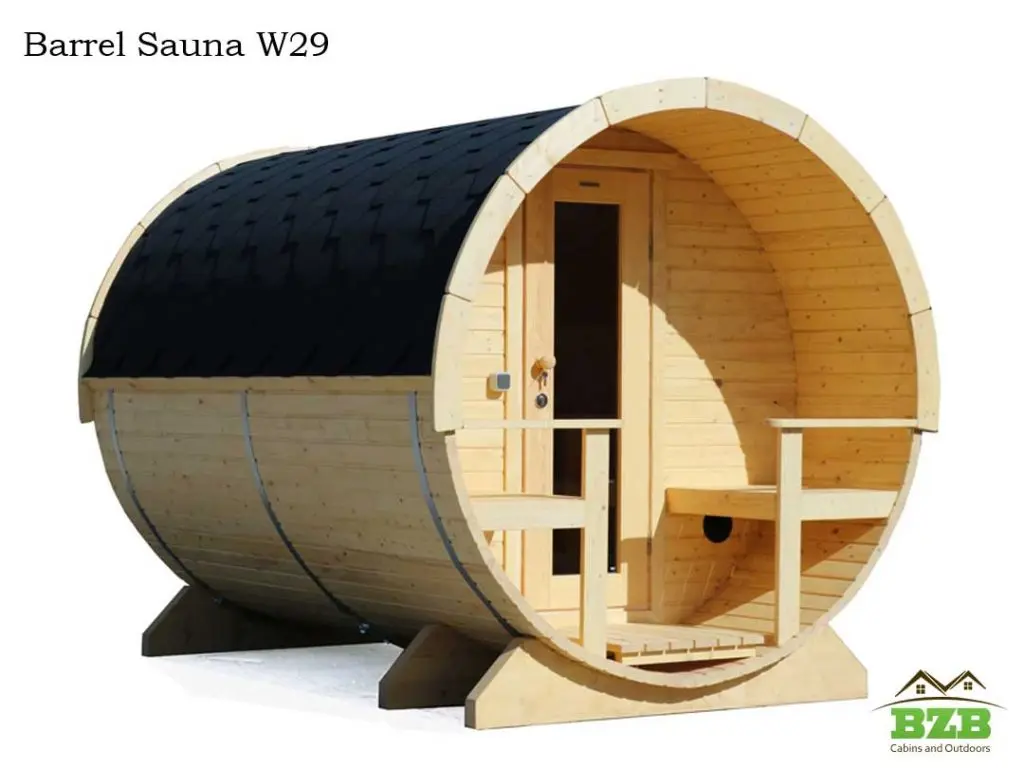 Established in 2013, BZB provides the very best in outdoor cabins, saunas and other outdoor items. Their sauna kits are made from the finest slow grown European Spruce and crafted with care in Northern Europe.
You can choose from a variety of styles, with units from 2 person all the way up to deluxe units for 12 people. The best part is you can choose wood burning or electric heaters, configure windows and select from a number of great options to customize your barrel sauna just the way you want it.
You can check out their full selection here!

Runner Up:

Aleko
Founded in 2005 as a small, family owned business Aleko is now a thriving company that offers a wide range of luxury barrel saunas made from Finland White Pine or Rustic Western Red Cedar and including a number of unique features from Bitumen shingle roofing to panoramic view windows.
Some other options for you include...

·       SymbolicSpas – selling top quality spas including Canadian Red Cedar and Pine Wood barrel spas since 1998.

·       AllwoodOutlet – Allwood Outlet is a division of Allwood Industrials, which was founded in 2000 and offers eco-friendly barrel sauna options imported from Scandanavia and the Baltic States.
What's the Bottom Line?

There are plenty of reasons to opt for an outdoor barrel sauna, from relaxation to stress relief to specific health benefits including improved circulation and relief from chronic pain. They are quick and easy to set up and will instantly become an attractive feature in your backyard.
The only drawback for many people will likely be the price. While an indoor home sauna can be set up for under $3000, barrel cedar saunas have a price range of $4500 to $9000, depending on the size and style. It's important to shop wisely but if you're looking for the most effective and durable outdoor sauna, a barrel sauna is almost certainly your best bet.
---