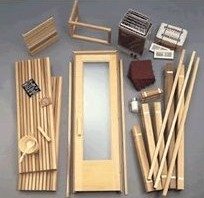 Finlandia Saunas - Quality, Tradition & Innovation
Sauna bathing is an age old tradition in the Finnish culture, which was first brought to the U.S. in the 1600's. It remained a part of the Finnish tradition until the 1960's, when saunas were first promoted to the general public. In 1964, a young Finnish immigrant by the name of Reino Tarkiainen founded the Finlandia Company in order to promote the authentic sauna of his homeland.
Today, Finlandia works from the largest privately owned sauna manufacturing facility in the U.S., Finlandia Business Park in Portland, Oregon. Since their inception, the company has prided themselves on their reputation as "old country" sauna builders, bringing a level of authenticity that no other sauna company can match.
As the only major supplier to manufacture saunas exclusively, Finlandia can deliver the most authentic sauna experience for every single customer. They do so with an attention to detail that can't be found anywhere else. From using only the choicest raw materials to paying close attention to the smallest details including countersinking all surface nails and nailing their benches from the bottom to avoid protruding nails, they ensure the most comfortable and aesthetically pleasing sauna experience possible.
Finlandia puts that kind of care into all of its products, which include both precut and prefabricated kits, sauna heaters, and accessories. They don't sell completed sauna rooms so they may not be the choice for everyone but if you aren't put off by the idea of doing some of the construction work yourself you can't find a better quality or more authentic product.
Finlandia saunas and heaters can be found at a variety of online and brick and mortar stores. Their popularity is in part due to their reasonable cost and reliable construction. Once again, though, the most popular Finlandia models have to be assembled by you.
Pre-Built Saunas & Kits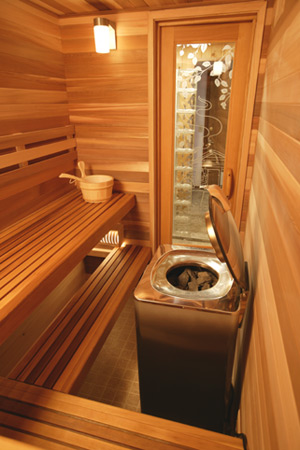 Finlandia offers two options for sauna rooms, Precut and Prefabricated, each of which involve some level of assembly. This isn't as challenging as it sounds, as Finlandia's pre-built sauna kits contain everything you need to put together the finished sauna and properly install everything from the electrical wiring to the doors.
Precut Sauna Packages
The Precut Sauna packages are made to order, intended to fit into a designated space that you have already framed and insulated. The craftsmen of Finlandia cut the material and build parts to fit your room, according to the stud to stud measurements you supply.  Each package contains wood for the walls and trim, assembled benches, a pre-hung glass door, assembled headrests for the upper benches, a heater and stones, a wooden  heater guard, Super Dek interlocking plastic mat flooring, and finishing details such as vents, wall lights, a bucket, liner and dipper, a thermometer and a vapor barrier/heat reflector. 
The standard wood for their Precut Sauna packages is Western Red Cedar but you may also choose from Clear Redwood, clear Alaskan Yellow Cedar, or clear Western Hemlock for a unique, personalized look.
Prefabricated Rooms
The Prefabricated Rooms are engineered for fast and effortless installation. The walls of these saunas are rather unique - they use an exclusive locking system inside each panel which connects without using any screws, splices or bolts.
Finlandia even puts a thick layer of insulation between the inside and outside walls in order to help your sauna retain heat more efficiently. They also pre-install conduit within the walls so that running electrical cable is easy and effortless.
Finlandia Pre-Fab Saunas, Precut Sauna Kits & Heaters
Like the Precut Packages, the Prefabricated Rooms use Western Red Cedar as the standard wood but you may also choose from Clear Redwood, clear Alaskan Yellow Cedar, or clear Western Hemlock. The Prefabricated Room kits include the all of the same accessories and finishing details as the Precut Packages.
Exclusive to the Prefabricated Rooms are several unique designs including a 5-Sided Sauna which is available in 6'x6' size with a 7' ceiling.  It features a full glass door and clear glass windows for a spacious, open feeling. You can choose from one of the four clear Western woods for the interior and either Alaska Yellow Cedar or Western Red Cedar for the exterior.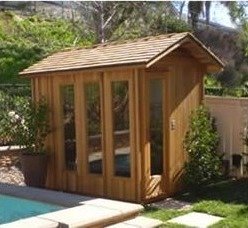 Another popular option in Finlandia's Prefabricated Rooms are the Outdoor Saunas.  These are the same as the indoor Prefabricated Rooms with the addition of an unassembled cedar shake roof package. There are two choices of roof package, the standard FPR kit or the STR Starline Skylight Roof Kit which is made of 3 layers of Thermopane Acrylic that lets sunlight in during the day and starlight at night for added ambiance.
The Outdoor Saunas can be installed on any concrete pad or deck, giving you the ability to incorporate your Sauna seamlessly into your backyard landscape.
If you're considering a pre-fab or pre-cut sauna, Finlandia saunas make it easy, but be sure to confirm whether your sauna has a waterproof floor or not. Some models include this feature, but most of them have to be installed on a concrete pad, vinyl flooring, or ceramic tiles that are waterproof.
Finlandia also offers a unique selection of door styles for all of the Precut and Prefabricated sauna packages.  These include the standard door, fitted with clear insulated glass, the P1 or P2 Fir paneled door with small glass panel or without, or their exclusive etched glass options. The etched glass options are custom designed and etched by an artist and come in several patterns including "Sauna Scene" and "Rustic Sauna" which are available in either positive or negative images and their beautiful Scenic Designs: Mt. Hood, Multnomah Falls, Liberty, Lighthouse or Sailboat.
If you aren't the do-it-yourself type, you can also order saunas from Finlandia made to your specifications and delivered assembled, but these can be pricey.
Finlandia Sauna Heaters are Top Notch
Finlandia saunas include everything you need, from attractive, wood water buckets to stainless steel elements for longevity and safety. One of the best features in Finlandia products is the heaters. They are manufactured to exacting standards and meet or surpass all government regulations.
You'll enjoy the soft, even heat and appreciate the excellent warranty on the heaters, which are some of the finest in the industry. The three wall construction of the heaters also means cooler surface temps, so there's no need to worry about safety. The unusually large surface for rocks on Finlandia heaters also assure you'll get even heating and a good airflow.
Finlandia currently offers three models of electric heater, the FLB, FIN and Club.
Both the FLB and FIN are wall mounted with a stainless steel interior and glossy, baked enamel exterior. There is also a Stainless Option for both models that features a stainless steel exterior along with the stainless interior, ideal for commercial installations and areas with salty air.  
The FLB model has built-in controls on the bottom front of the unit that include a 60 minute timer with 1 to 8 hour delay while the FIN uses a wall mounted digital control.  Both models come in 3, 4.5, 6 and 8 KW sizes to fit almost any size sauna and have a 45 lb. stone capacity.  
The Club Model is a floor model heater which uses Xenio digital control or manual wall control. It is made of stainless steel both inside and out with stainless steel elements for durability. It is available in 10, 12.5 and 15 KW sizes which makes it ideal for larger saunas and health clubs. It also has a sizable 135 lb. stone capacity.
Because Finlandia puts its focus on providing the most authentic sauna experience they also wanted to offer their customers the ability to choose a wood burning heater. As a result, Finlandia imports the full line of Harvia wood burning sauna heaters. Harvia are known for their superior quality and performance, making them the top choice for wood burning heaters.
Thoughtful Extras Make a Difference
Finlandia also offers a complete lineup of sauna accessories such as thermometers, birch leaf products for a more authentic sauna experience, and wonderful aromatherapy oils you can add to your water bucket.
These essential oils, available in a wide range of scents including eucalyptus, Nordic birch, citrus-orange, and pine, add a lovely aroma to the air when you splash the oil infused water over hot rocks, creating a particularly nice ambience. There's even a "Tar Aroma" available which produces the scent and feel of a traditional Finnish Smoke Sauna. 
Finlandia also offers headrests, an adjustable wooden lounge chair, sauna pillows, decorative lighting, and other options which all work seamlessly with Finlandia saunas for the ultimate in comfort and relaxation.
They even offer unique Soapstone sauna fountains in three sizes, from 1 to 3 water pillars, which can be added to your sauna heater to create the soothing sounds of trickling water to further enhance your sauna experience.
Authentic Finnish Saunas You Can Trust
Finlandia doesn't make anything but saunas and they've been manufacturing them since 1964. They are some of the most reliable, attractive in-home saunas you can get at prices that are reasonable rather than cost prohibitive and they pride themselves in providing the most authentic Finnish saunas available anywhere. 
If you're looking for a luxury sauna, you may want to look elsewhere, but if you want an attractive, reliable sauna for your family and friends that gives you a traditional Finnish sauna experience, Finlandia saunas are some of the best in the industry.