Harvia Saunas - World Leaders in Sauna Manufacturing
Located in Finland, Harvia Saunas are recognized as the top selling saunas in the world, with over 150,000 sauna heaters and stoves manufactured every year. Over sixty-five countries now import Harvia products, including models of various sizes, sauna heaters, and their latest addition to the line-up, infrared saunas.
The company began in the 1950s with the manufacture of cast iron, wood burning sauna stoves. By the 1980's, the company had added electric sauna heaters to their portfolio as well as a complete array of sauna accessories.
Harvia Promotes Traditional Sauna Bathing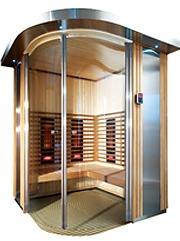 Although the company manufactures a wide range of complete saunas, heaters and accessories, their wood burning stoves and outdoor saunas continue to be best sellers, particularly in Finland and other European countries where there is a long standing tradition of family-sized outdoor saunas.
But they don't shy away from innovation; they also offer smaller, interior saunas with electric heaters for city dwellers. The latest Harvia Saunas include infrared models that offer dry, far infrared heat as an alternative to traditional saunas.
You'll also find a selection of steam rooms and steam generators for indoor installation if you prefer the moist heat of steam rather than the dry heat of a sauna.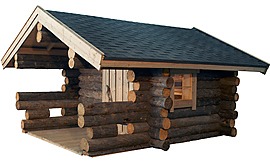 Harvia Saunas offers a particularly interesting and refreshing sauna for consumers who are interested in a relaxing, healthy sauna that's eco friendly and full of rustic charm. Their Kelo Sauna is a beautifully executed outdoor sauna that resembles a log cabin.
The exterior walls are constructed entirely from standing dead pines, often called kelo wood. The interior walls are also of reclaimed wood; the sub-wood used here is actually crafted from sub-woods that have been submerged in water for long periods of time.
Sub-wood is particularly dense and hardy, with little or no shrinking, splitting or splintering over time. The slightly red cast to this wood adds a rich touch to the interior of your sauna.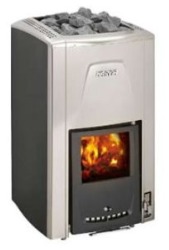 Impressive Selection of Elements
Harvia offers several stylistic options you simply won't find with other manufacturers or retailers. One popular option is a beautiful decorative stone wall that can be used for all or part on an interior sauna wall, adding textural interest and the lovely color variants found in real stone. The faux stone walls are crafted of heat resistant ceramic for uniform performance at all temperatures.
Harvia Website Educates Sauna Users Around the World
Harvia saunas are backed by an excellent warranty as well as one of the most comprehensive and informative sauna websites you can find. Whether you have questions about the various styles of saunas offered, you want to compare electric heat saunas to wood stove saunas, or you simply want to learn more about how to install a sauna, you can find the answers you seek at the company website.
Harvia even offers complete installation manuals and full color brochures online in several languages, including English, Finnish, French, German and Russian in order to serve their world-wide customer base.
Whether you want a more contemporary infrared sauna, a steam room, or a traditional outdoor sauna, Harvia Saunas are all constructed to exacting standards. While all Harvia products are well made and backed by the company's dedication to sustainable manufacturing and development, their wood burning sauna stoves are their signature product.