Harvia Saunas - World Leaders in Sauna Manufacturing
Located in Finland, Harvia Saunas are recognized as the top selling saunas in the world, with over 150,000 sauna heaters and stoves manufactured every year. Over sixty-five countries now import Harvia products, including models of various sizes, sauna heaters, and their latest addition to the line-up, infrared saunas.
The company began in the 1950s with the manufacture of cast iron, wood burning sauna stoves. By the 1980's, the company had added electric sauna heaters to their portfolio as well as a complete array of sauna accessories.
Harvia Promotes Traditional Sauna Bathing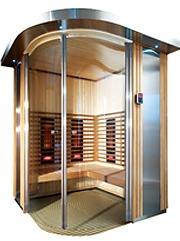 Although the company manufactures a wide range of complete saunas, heaters and accessories, their wood burning stoves and outdoor saunas continue to be best sellers, particularly in Finland and other European countries where there is a long standing tradition of family-sized outdoor saunas.
But they don't shy away from innovation; they also offer smaller, interior saunas with electric heaters for city dwellers. The latest Harvia Saunas include infrared models that offer dry, far infrared heat as an alternative to traditional saunas.
You'll also find a selection of steam rooms and steam generators for indoor installation if you prefer the moist heat of steam rather than the dry heat of a sauna.
Harvia Electric & Wood Burning Heaters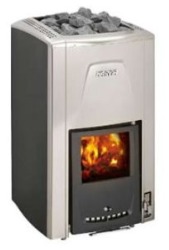 Harvia offers a wide range of electric and wood burning heaters for saunas of every size, from small to family to large or commercial. They bring their same standard of quality to their heaters; designing them for safety, ease of use and sleek looks so that they can fit into any sauna design.
Electric
Their electric sauna heaters include standard models like the Vega and Virta that have solid stainless steel outer shells, as well as a full line of unique pillar style models, including the Cilindro and Glow. These models have a grate-like outer shell which allows for each bather to adjust the nature of the steam.
For a sharper heat, you can throw water on the top of the stones or for a softer heat, you can throw water on the side of the heater. There are also models specifically designed to add visual flair to your sauna design. These include the Glow Corner, which is shaped to fit snugly into a corner and the round Globe, which is free standing and can be placed anywhere within your sauna room.
One of their most unique offerings is the Forte, which works as a heat-storing electric heater, meaning you don't have to wait for your sauna to heat. Just lift the lid of the Forte and turn the controls up and within 5-10 minutes, your sauna will be fully heated.
Several of the electric models feature digital controls that can easily be set with the touch of a finger and the Cilindro Plus Spot comes with Harvia's wireless Spot control, which can be placed anywhere inside or outside the sauna with no wires that require extra installation. Their latest innovation is the Harvia Xenio WiFi control panel, which, when coupled with the MyHarvia mobile app, allows you to control your sauna directly from your smart phone so it's ready whenever you need it.
CHECK OUT POPULAR HARVIA HEATERS AT AMAZON
Wood Burning
For those who prefer the traditional feel of a wood burning heater, Harvia also offers a surprisingly broad selection of models in a variety of sizes. You can choose from traditional style models, models with water tanks or models that are heated from outside the sauna, giving you a number of options for your outdoor sauna.
All of the wood burning saunas feature large glass fronted doors so that you can enjoy watching the fire as you bathe. They also have adjustable legs so that you can easily install your heater on the most uneven of floors.  Standard models, such as the Linear and 20 Pro, have a sleek, graphite black outer shell.  
The standout among the wood burning models is the Legend, which is created by Harvia's master blacksmiths for the ultimate sauna experience. Its sturdy steel frame has a weathered patina that brings a rustic touch to any sauna. The frame holds a large amount of stones that provide wonderfully humid and gentle clouds of steam reminiscent of traditional smoke saunas.
Both the Legend and Linear models can be accessed from inside or outside the sauna so that both bathers and those outside the sauna can enjoy the warmth and look of the fire. There are also Legend and Linear GreenFlame models which feature the latest innovation in Harvia's wood burning line, the GreenFlame 20 fire chamber, specifically designed to lower carbon monoxide emissions by as much as 70%.
Several of the wood burning models, including the Legend, Linear and 20 Pro, have versions that are outfitted with a water tank. Each has a water tap conveniently positioned toward the bottom of the heater either on the front, left or right side. This allows you to fill any size container with hot water, making them ideal for outdoor use.
Harvia Infrared Heaters
For their newest line of Radiant Infrared Cabins, Harvia offers two styles of Infrared radiators. The Carbon Infrared Radiator 380 W is a thin carbon fibre heating element that heats up quickly and is suitable for any of their custom made infrared cabins. Because the Carbon model is only 4 mm thick, it can be easily installed over wood paneling.  There is a separate Wood Grate that can be installed onto the Carbon radiator for an extra level of safety.
The Comfort model is a tube-type heating element encased in a comfortable and safe outer shell with a flock-coated surface.  It is also outfitted with a light for extra appeal.
Impressive Selection of Elements
Harvia offers several stylistic options you simply won't find with other manufacturers or retailers. They include sleek, modern designs that are as practical as they are pleasing to the eye. Whether you prefer traditional angles or sloping curves, you can find benches, heater surrounds and other interior fixtures to suit your needs. You can choose from a range of quality woods including golden yellow abachi, reddish brown alder, light-colored aspen or dark, heat treated aspen. 
Add glass doors and walls, Luminous fiber optic or LED lights and built-in loudspeakers to complete your sauna design. Other accessories include steel baskets, buckets and ladles for applying water to your stones or holding your firewood, easy to read thermometers and Harvia's selection of sauna fragrances made with essential oils to add a touch of soothing comfort to your sauna.  Choose from apple, birch, citrus, eucalyptus, peppermint or pine for the ultimate sauna experience.
One of Harvia's most unique offerings is the Autodose automated water dispenser. You can add this to any of their heater models to take the effort out of adding water to your stones. Either press the button for an automatic splash of water with our without added fragrance, or set it to work automatically at regular intervals for an even easier approach.
Harvia Website Educates Sauna Users Around the World
Harvia saunas are backed by an excellent warranty as well as one of the most comprehensive and informative sauna websites you can find. Whether you have questions about the various styles of saunas offered, you want to compare electric heat saunas to wood stove saunas, or you simply want to learn more about how to install a sauna, you can find the answers you seek at the company website.
Harvia even offers complete installation manuals and full color brochures online in several languages, including English, Finnish, French, German and Russian in order to serve their world-wide customer base.
Whether you want a more contemporary infrared sauna, a steam room, or a traditional outdoor sauna, Harvia Saunas are all constructed to exacting standards. While all Harvia products are well made and backed by the company's dedication to sustainable manufacturing and development, their wood burning sauna stoves are their signature product.
CHECK OUT POPULAR HARVIA HEATERS AT AMAZON