Rocky Mountain Saunas - How Do They Compare?
Rocky Mountain Saunas are based out of Colorado and have been in business since 2010, so they are relatively new to the industry.  They sell 1-4 person commercial and residential infrared saunas as well as various upgrades on their website.
A Look at the Saunas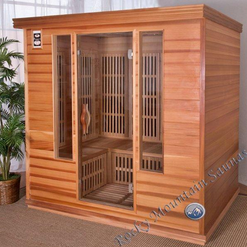 The current offerings include the Commercial Series: Aspen, Montana and Vail and the Residential Series: the Badger, Colorado, Durango, Rio Grande and Big Bear.  
They range in size from 1 person to 4 person, and all feature "Zero EMF Nano-Carbon Heaters", thick "Grade One/Bay Clear Heartwood" panels, EMF protective shielding and heavy floor panels and benches, and a variety of other standard features.
The standard wood option is Pacific Coast Hemlock, which has a light appearance, but you can choose Western Red Cedar as an option if you prefer the darker look.
You can add a speaker/Bluetooth package to all the Rocky Mountain Saunas, as well as a privacy door wrap, Sunbrella cover, thermal cover, interior fabrics colors and white glove assembly.
The Pros
Although Rocky Mountain has not made it to our list of the Best Infrared Saunas on the market, there are a number of positives from our reviews thus far.
The saunas themselves appear to be well designed and constructed, incorporating thick paneling and Zero EMF rated nano-carbo heaters.  However, there is no supporting information anywhere on the site so we really don't know for sure just what the EMF ratings are.
The website is very easy to navigate, and the prices for all of the Rocky Mountain Saunas are displayed, something that you typically don't find. Usually, you have to contact the company to get a quote, so this makes it a little easier for you.
As far as prices go, they are in line with other infrared sauna companies we've reviewed, although it will certainly add up if you opt for all of the extras they have available.
The company does have an A+ BBB rating, which is always a good sign, as well as free shipping on all saunas.  There is live support online so you can ask any questions you have, as well as a toll free order number.
The Cons
The reason that we can't wholeheartedly recommend Rocky Mountain Saunas is because as we mentioned above there is very little information available beyond the specs of each sauna.
If you compare their site to one of our top rated sauna brands like Jacuzzi/Clearlight Saunas, you can see just how limited the information is that Rocky Mountain provides is.  So you don't know for sure anything about the saunas, or even if the company actually makes the saunas or just resells them.
The About Us page isn't really helpful either.  You learn nothing about the company...the page is mostly about the benefits of infrared heat, which is odd.
So in our opinion you are much better off with a company that definitely makes their own saunas, and has clear information about their manufacturing process, EMF rating, wood paneling and everything else that goes into manufacturing their saunas.
The Bottom Line on Rocky Mountain Saunas
If you're going to spend over $2000 on a sauna for your home or office, you want to make sure you are getting the highest quality product you can.  Otherwise, you'll just be disappointed and certainly won't reap all of the health benefits that come with regular sauna usage.
Rocky Mountain Saunas may be very good, but you really don't know what you are getting as information provided is very limited.  We like to see scientific data, third party testing, manufacturing details and anything else that supports the claims that companies make.  Only then can we truly recommend one brand over another.