Health Mate Sauna - A Good Option
Health Mate is a name that is synonymous with saunas today. A market leader and a pioneer in the industry, the company has been making high quality infrared saunas for well over three decades now. Made from the finest Western red cedar wood, the saunas are known for their high infrared output and low EMF levels.
A Look at the Saunas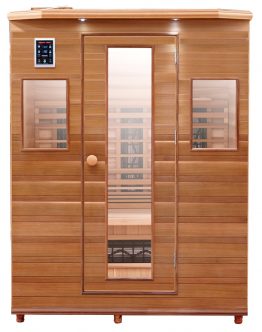 Health Mate saunas feature the patented Tecoloy and TruInfra carbon heaters, chromotherapy lights, sound system with Bluetooth and speakers, and a digital control pad. They come with a bench, an ergonomically designed backrest, and an interior shelf. They are available in different sizes as well.
The product lineup includes six different categories of saunas – Essential Mate, Renew Mate, Enrich Mate, Restore Mate, Refresh Mate, and Ulti-Mate.
Essential Mate – These are small, portable saunas that target your lower body. So affordable that they can fit into any budget, these saunas offer the same therapeutic benefits as a traditional infrared sauna.
Renew Mate – Fitted with floor heaters for added comfort, these saunas are far more comfortable than traditional steam saunas. They are available in three versions – I, II, and III, indicating the number of people they can accommodate.
Enrich Mate – This is the luxury range from Health Mate. These saunas have mirrored glass windows, additional heaters for increased heat output and comfort, and exterior lights. They also have a bench, backrest, magazine holder, towel bar, and an interior shelf. There are three models available – Enrich Corner, Enrich II, and Enrich III.
Restore Mate – Probably the most unique range of saunas you can find on the market today, the Restore series has three saunas – Conditioning, Elevated Health, and Therapy Lounge – with different features like wheelchair accessibility, lounging bench, and bi-level seating arrangements.
Refresh Mate – These are compactly designed portable sauna units that target only your legs. You have three choices including Aroma Stone, Ionic Glow, and Kinetic Mend.
Ulti-Mate – These are customized saunas that are built according to your exact specifications and needs. You can tell the company what kind of features you need and they will build a sauna that fits your lifestyle and needs perfectly.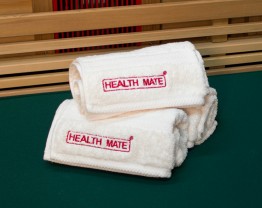 The Pros
As far as the company and the customer service, Health Mate is definitely up there.  Although it is not one of our top infrared sauna recommendations, it's not far behind.
Health Mate saunas are equipped with the innovatively designed Tecoloy and TruInfra carbon heaters, which offer the unbeatable combination of even, consistent heat and infrared wave output and low EMF levels.
They feature the unique Dual Wave Micron technology, which emits two infrared wavelengths to raise your core temperature faster and detoxify your system thoroughly. As a result, the saunas are able to offer a wide range of therapeutic benefits like relief from chronic pain, fatigue, arthritis, and insomnia, improved blood circulation, detoxification, healthy weight loss, and a lowered risk of hypertension, heart disease, and cancer.
One thing that needs to be mentioned about Health Mate saunas is the large number of options available for customers. The company offers six categories of saunas, comprising a number of different models with an extraordinarily wide range of features.
Do you need a sauna just for your legs? Or for your whole lower body? How about a sauna with two levels of seats? How about a sauna for really tall people who cannot fit into conventionally sized saunas? From saunas with multiple infrared heaters to saunas with luxurious mirrored glass windows and saunas that combine the benefits of aromatherapy and infrared therapy, you can find a variety of saunas, each of which has a distinct set of features.
Moreover, Health Mate also offers the Ulti-Mate series of saunas, which are custom-made according to your specifications. So, even if none of the saunas in the other categories fit your needs, you can get one built especially for you.
Health Mate saunas have chromotherapy lights to make your sauna experience better than ever. Each sauna has an LED light and a remote, using which you can change the color. Your choices include red, orange, yellow, green, blue, purple, and white. Each color has a specific effect on your mind and body – from elevating your mood to promoting wound healing. When coupled with infrared therapy, chromotherapy can have an amazing effect on your physical and mental health.
The company is also known for its staunch commitment to sustainability. The saunas are made only from FSC certified red cedar wood. Also, the entire tree is utilized for making saunas and not even an inch is wasted, which again highlights the company's commitment to making a 100% green product. The company also plants a tree every time they remove one.
Health Mate also offers a number of accessories to improve your sauna experience. From terry cloth robes and towels to backrests, shelf hangers, sauna cushions, aromatherapy cup, and outdoor sauna covers, you can find a number of accessories that can help you personalize your sauna according to your needs.
The Cons
There are not too many cons to speak of here, which is why they receive such great reviews from customers and industry experts.
One thing that we can mention is the fact that you can't buy a sauna online currently, i.e. you need to speak with a specialist. But that is a common complaint with the top sauna brands on the market today, and it's probably better that you speak to someone before making a large purchase such as this.
However, their customer service is top notch and you can place an order on the phone just as quickly as you would do online. You can also contact the customer care for pricing details or any other information related to the saunas.
The Bottom Line on Health Mate
Health Mate offers two unique features – the dual wave heaters which emit two infrared wavelengths for increased therapeutic benefits and chromotherapy lights, which are sold separately as accessories by some other manufacturers. The combination of these two features creates a warm, soothing environment which rejuvenates and refreshes every cell in your body.
The company also gives you plenty of choices in terms of sauna units. You can choose from the many readymade ones available on the catalogue or get one custom-built for you. Your options are endless.
It does not matter if you are on a small budget or if you can afford to splurge – you can find a Health Mate sauna that fits your budget and needs perfectly. On the whole, Health Mate saunas offer great value for your money.
See our top rated home infrared saunas here