Custom Saunas – Built to Fit Anywhere
There are several ways of planning for and installing custom saunas. These unique designs will reflect your personality and enhance your home, and are very affordable thanks to the choices on the market today.
Your customized sauna can be a permanent indoor or outdoor installation, and the sauna can be built larger in size and result in a more unique installation than a prefab modular unit. Above all, a custom built sauna offers flexibility in the shape and size, as well as extensive choices in wood and heaters.
If you want to design your own custom sauna and install it according to your local building codes, there are many dealers who can give you tips and jump-start you on how to get your custom built sauna from the drawing board to completion. They'll walk you through the planning stages and give you hints about all aspects of its construction.
What to Look For in Custom Saunas
One thing that sets custom built home saunas apart from standard sauna kits is uniqueness. Many of these projects become major show-pieces of the home and result in a one of a kind sauna that would have been impossible to build with a standard modular kit.
A pre-cut customized sauna has these advantages:
Flexibility to choose your style, size, and amenities. You can consider such options as contoured sauna benches, vaulted ceilings, special light fixtures, sound systems, exterior control panel, and more. You can build with standard red cedar wood, or opt for yellow cedar, or hemlock fir. The custom built home sauna kit is put together to your specifications and comes with everything you need.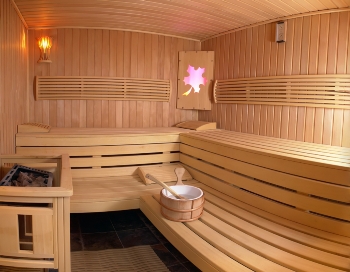 You get professional assistance, tips and building advice, and all questions and concerns are answered. The sauna dealer can also advise you on framing and insulating the room, whether to hire a contractor or do the work yourself.
Your input goes toward creating your "dream" sauna in a permanent location in your home. You don't have to settle for less with a custom built sauna.
Custom saunas can be designed to be handicapped accessible.
UPDATE: If you are looking for a high quality custom saunas, we have found a great resource.  Check out the complete sauna room packages from Saunacore, with high quality heaters, western cedar planks and everything else you need.
Custom Built Saunas Fit Anywhere
Building your sauna in just the right spot in your home or yard will make it seem like your customized sauna was planned for the space all along. This is where you can really use your imagination.
If you don't want to give up a shower stall or a corner of the family room, consider building a sauna in a walk-in closet, converting the kitchen pantry, or part of the basement. And custom saunas can also be built outdoors - off the patio, deck or near the swimming pool.
Get Advice Before You Start
You might want to talk to a few dealers about custom built saunas to get some idea of the size and layout that would best suit your location. A professional sauna builder will tell you what works and what won't, advise you on the best way to utilize the square footage of your available space and provide assistance from planning to constructing and operating your sauna.
Consult a professional on custom saunas if you are a do-it-yourselfer looking to save money on your installation, or a new sauna enthusiast who is anxious to get started but doesn't want to buy the wrong unit.