A Look at Outdoor Saunas and Your Many Options
Outdoor saunas are also known as exterior, outside or backyard saunas. They come with everything you need to get started including the heater, rocks, and thermostat controls. Outdoor home saunas can also come equipped with all the comforts of an entertainment center including a radio, CD/DVD player, speakers and reading lights.
Specifications of Outdoor Saunas
Weather Resistant Building Material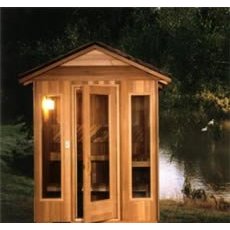 It goes without saying that saunas installed outdoors will be exposed to the weather even if they are located on covered patios so they need to be constructed of special wood. White woods such as cedar, pine, or aspen are the best lumber for a backyard sauna located outdoors.
The wood is kiln-dried and that makes the structure long-lasting and durable in even the most demanding climate conditions. Also, these woods are naturally resistant to mold and mildew and will not rot.
Check out our expert's  top outdoor recommendations here!
Energy-Efficient Sauna Heaters

The heater is an important feature of an outdoors installed sauna and before you choose one, you need to know a few things such as the size of sauna you plan to buy and the average climate of your region. As a general rule, the colder the climate the higher the BTU of the heater needs to be.
The type of heater you select for your outdoor cedar sauna will also dictate whether or not you need additional work performed, such as having gas lines or electrical outlets installed in your backyard.
If you are looking at larger outdoor saunas to seat up to eight people, make sure the heater is large enough so that warm-up times aren't excessive. Even with insulated walls and ceiling, the sauna will take 30 minutes or longer to reach its operating temperature when the heater is properly sized.
Seating Arrangement
You also want a design that has benches on two levels, and not just single benches on opposite walls. The upper bench is hotter than the lower one in any sauna. And since many people like to lie down in a sauna, one of the benches should be at least long enough to stretch out comfortably.
Building Permits
These saunas can be installed on a deck, backyard patio, or concrete slab. As for the necessary permits needed for building an outdoor sauna, it is advisable to check the local building codes of your community before you begin.
So Many Choices Out There...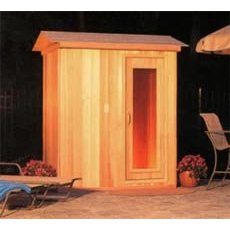 There are so many cozy little designs for these outdoor backyard saunas that it's hard to choose one. If a pre-fab model doesn't suit your needs, you can design your own sauna and send the plans to a company to build to your specifications as well as offer assistance and tips.
While you are shopping around, you might also want to take a look at barrel saunas, a unique design that blends in beautifully outdoors. Barrel saunas are portable so you can take it with you if you plan to move in a few years.
Prices for outdoor saunas can range from $4500 for a kit to $10,000 for a pre-fab model. If you plan to invite guests to share your sauna, you should consider getting the largest size you can afford but one that will blend in ascetically with the backyard setting. Whichever style you choose for your outdoor installation, make sure you invest in a high quality backyard sauna that will provide you with years of relaxing enjoyment.