A Look at Outdoor Saunas and Your Many Options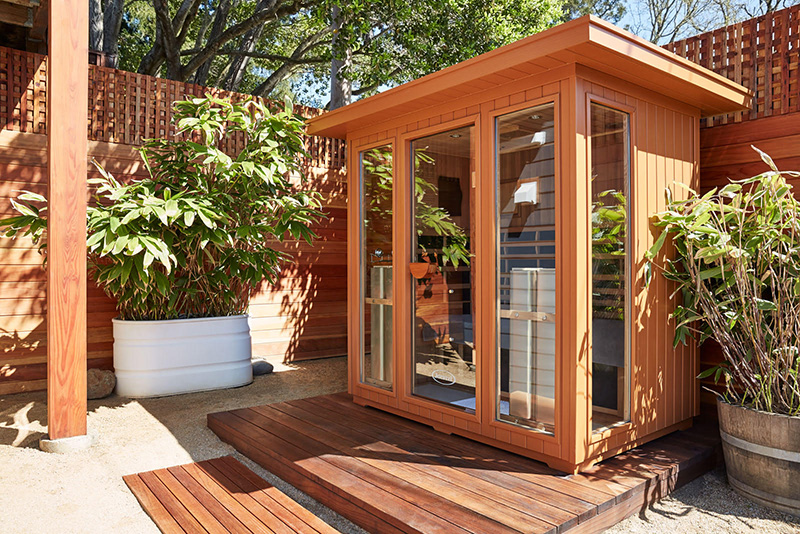 Outdoor saunas are also known as exterior, outside or backyard saunas. They come with everything you need to get started including the heater, rocks, and thermostat controls. Outdoor home saunas can also come equipped with all the comforts of an entertainment center including a radio, CD/DVD player, Bluetooth, speakers and reading lights.
In fact, the sauna originated as an outdoor activity, with the earliest versions using a pit dug into the earth to contain the pile of rocks for heating. To this day, Finnish saunas are almost all located outdoors, where bathers enjoy the peace and tranquility of nature as part of the overall sauna experience.
Of course, there are many health benefits associated with both indoor and outdoor sauna bathing.  Everything from pain relief to improved cardiovascular and respiratory health to a boost in immune system function can be derived from regular sauna use. One recent study even linked regular sauna use to a reduction in the risk of stroke.
Outdoor Sauna Specifications
Today, there are more choices then ever when it comes to outdoor saunas. You can buy a pre-fab model or a kit or if you want a more personal touch, you can build your own. Building can be a great option but you'll need to consider the various steps involved in building an outdoor sauna.
Weather Resistant Building Material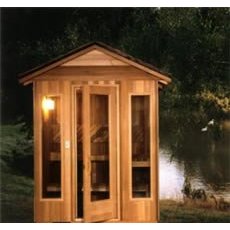 It goes without saying that saunas installed outdoors will be exposed to the weather even if they are located on covered patios so they need to be constructed of special wood. White woods such as cedar, pine, or aspen are the best lumber for a backyard sauna located outdoors.
The wood is kiln-dried and that makes the structure long-lasting and durable in even the most demanding climate conditions. Also, these woods are naturally resistant to mold and mildew and will not rot.
Check out our expert's  top outdoor recommendations here!
Energy-Efficient Sauna Heaters

The heater is an important feature of an outdoors installed sauna and before you choose one, you need to know a few things such as the size of sauna you plan to buy and the average climate of your region. As a general rule, the colder the climate the higher the BTU of the heater needs to be.
The type of heater you select for your outdoor sauna will also dictate whether or not you need additional work performed, such as having gas lines or electrical outlets installed in your backyard.
If you are looking at larger outdoor saunas to seat up to eight people, make sure the heater is large enough so that warm-up times aren't excessive. Even with insulated walls and ceiling, the sauna will take 30 minutes or longer to reach its operating temperature when the heater is properly sized.
Seating Arrangement
You also want a design that has benches on two levels, and not just single benches on opposite walls. The upper bench is hotter than the lower one in any sauna. And since many people like to lie down in a sauna, one of the benches should be at least long enough to stretch out comfortably.
Building Permits
These saunas can be installed on a deck, backyard patio, or concrete slab. As for the necessary permits needed for building an outdoor sauna, it is advisable to check the local building codes of your community before you begin.
Your Outdoor Sauna Options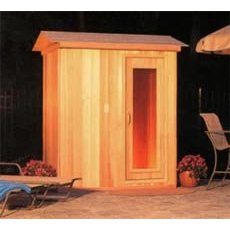 There are so many cozy little designs for these outdoor backyard saunas that it's hard to choose one. You can select a traditional sauna, an infrared or for a truly unique look you might want to go for a barrel sauna.
Let's take a look at the various types...
Traditional Outdoor Saunas
These are standard steam saunas that work by using a heater to heat a pile of stones which then radiate the heat into the room.  Steam is produced by pouring water over the stones. Traditional saunas can use a wood stove, electric or gas/propane heater. They come in a range of styles, from traditional cabin to pod shaped and can enhance the aesthetic look of your landscape.
Top Pick: Saunacore – Saunacore offers a classic outdoor cabin style sauna in 7'x5' or 6'x6' models and also has custom sizes and shapes available. All of their outdoor saunas come with 2x6 tongue & groove Knotted Cedar walls; 2 tier straight knotted cedar benches; Cedar heater fence and cedar slats for the walking area of the sauna; a cedar door with window and cedar shingled pitched roof with venting.
They use the Saunacore 6000 watt Special Edition sauna heater with built-in controls & rocks. The sauna kits are made for easy assembly with pre-cut and drilled panels that can easily be assembled by two adults.
Infrared Outdoor Saunas

The latest addition to the outdoor sauna options is an outdoor infrared sauna.  Unlike traditional saunas, infrared saunas use carbon or ceramic emitters to transmit Far, Mid or Near infrared rays or a combination of them, to penetrate directly into your body. They have several advantages to traditional saunas, including the ability to heat up faster since they work at a much lower temperature. This also means you can enjoy a slightly longer session without becoming uncomfortable.
Top Pick: Clearlight/Jacuzzi – The leading name in infrared sauna technology, Clearlight/Jacuzzi offers the Clearlight Sanctuary Outdoor 5, combining sleek, contemporary design with sturdy materials designed to withstand the elements. The Outdoor 5, as its name suggests, is made to accommodate up to 5 people and is constructed of engineered wood on the outside and Western Red Canadian Cedar on the inside with thick, double paned glass throughout. 
It uses Clearlight's patented TruWave Full Spectrum heating system that combines all wavelengths for the ultimate infrared sauna experience. It also has state of the art digital controls that work with their tablet/smartphone app so that you can control your sauna remotely.
Check out our Clearlight/Jacuzzi sauna reviews for more info...
Barrel Outdoor Sauna
A unique type of outdoor sauna, barrel saunas are designed to look like a giant wine barrel resting on its side. They can add an aesthetic beauty to your backyard or patio area and their rounded shape allows for more even heat distribution and faster heating time. The round sides also prevent snow or rainwater build up which can help your sauna to last longer. While they can be connected to your home's electrical or gas system, barrel saunas are generally more mobile, allowing for more flexibility in placement.
Top Pick: BZB Cabins and Outdoors – BZB offers a wide range of barrel sauna kits, all made with the finest slow grown European Spruce and crafted with care in Northern Europe for an authentic feel. There are various shapes and styles, with sizes accommodating 2-5 people.
Check out the company's line of barrel saunas
All of their models include multiple rooms so that bathers have an area to undress and store their clothes before entering the sauna itself. Each model can use either a wood burning or electric heater and prices will vary depending on the specifications you choose.
Outdoor vs. Indoor Saunas - Pros & Cons
No matter what type of sauna you choose, there are some specific advantages and disadvantages to keep in mind when considering an outdoor vs. indoor sauna.
Outdoor Sauna Pros & Cons
Advantages
·       The added benefit of nature – along with the particular health benefits of sauna bathing, and outdoor sauna can also let you take advantage of the relaxation provided by being in nature. Simply walking to your outdoor sauna can help get you in a more relaxed, stress-free mindset.
·       Aesthetically pleasing – the visual appeal of an outdoor sauna can add to its charm and further enhance the overall sauna experience.
·       More flexibility – unlike indoor saunas, which may be limited by the amount of space you have inside your home, outdoor saunas have greater flexibility when it comes to size and location. That 5 person sauna you've always wanted may not fit in your bathroom but it can more easily fit out on your back deck or in your yard.
Disadvantages
·       More difficult to install – unless you're using a wood burning stove, your outdoor sauna may need to be connected to your home's electrical or gas system, which can make installation more complicated. Weather conditions can also further complicate the installation process.
·       Wear and Tear – even after it's installed, your outdoor sauna will be exposed to the elements and that can take a toll over time. Though most outdoor saunas use weather resistant materials, they can still require exterior washing, leak proofing and other regular maintenance.
·       Your own exposure to the elements – the sauna isn't the only thing that will be exposed to the elements. Unless you place your outdoor sauna immediately adjacent to your home, you'll need to walk at least a short distance to reach it, something you'll particularly want to take into consideration if you live in a colder climate.
Indoor Sauna Pros & Cons
Advantages
·       Easier to access – a sauna located inside your home doesn't require braving the elements to reach it, making it easier on you.
·       Easier to install – indoor saunas can be connected directly to your home's electrical or gas system or, in the case of an infrared sauna, plugged directly into a wall outlet.
·       Easier to maintain – since your indoor sauna won't be exposed to the elements it won't incur the same kind of wear and tear that an outdoor sauna will. With regular use and care, there will be much less regular maintenance involved.
Disadvantages
·       No separation – while having a sauna inside your home may be convenient, it can also make it more difficult to separate your sauna experience from the rest of your life, which can be an issue for some people.
·       Space limitations – the size and location of your indoor sauna will be directly determined by the amount of space you have available inside your home, meaning you may have to opt for a smaller model than you wanted.
·       Limited locations – aside from space constrictions, indoor saunas can only be used on certain types of floor (it is not recommended to install a sauna in a carpeted room), which may further limit the placement.
What's the Bottom Line on Outdoor Saunas?
Outdoor saunas are awesome if you can make them work for your home. There's nothing quite like the traditional Finnish experience, out there in nature.
Prices for outdoor saunas can range from $4500 for a kit to $10,000 for a pre-fab model. If you plan to invite guests to share your sauna, you should consider getting the largest size you can afford but one that will blend in ascetically with the backyard setting.
Whichever style you choose for your outdoor installation, make sure you invest in a high quality backyard sauna that will provide you with years of relaxing enjoyment.