Heavenly Heat Sauna Review - Focusing on Low Toxicity
Heavenly Heat is a small company that focuses on individuals with chemical sensitivities, ensuring that their products are safe and effective with unique construction methods.
They have carved a niche for themselves, and have been quite successful in doing so, in business for almost 30 years now.
A Look at the Heavenly Heat Saunas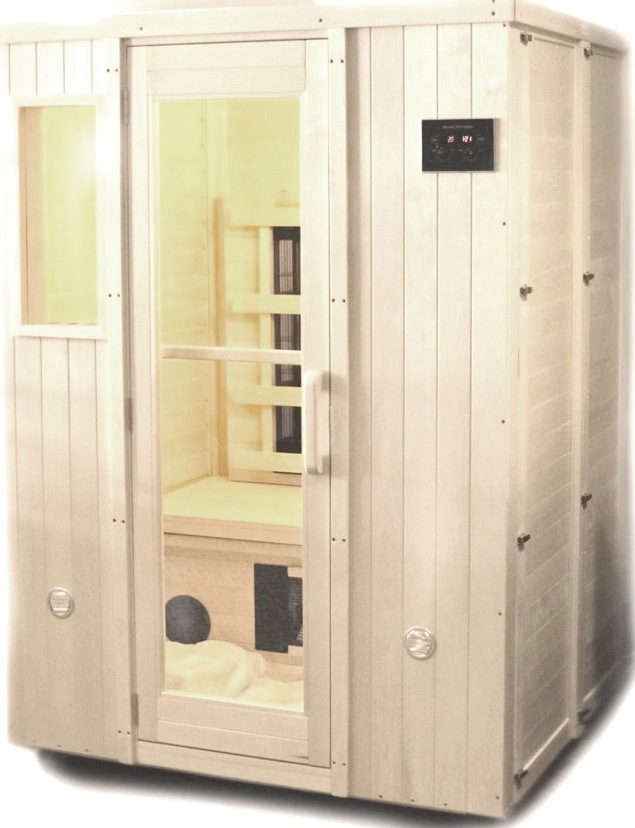 The company makes it a point to emphasize the fact that all of their saunas are made from thick panels and non-corrosive steel screws, rather than strong toxic adhesives like many other companies use.
You have three options when it comes to Heavenly Heat Saunas: Far Infrared, Traditional and Combination.
The Far Infrared line includes 2 personal saunas, 2 2-persons, 1 3-person and 1 4-person.  The single person model uses 4 heaters, and the 4-person model 8 heaters.
The Traditional line is like you might find in your gym, with stainless steel heaters with sauna rocks imported from Finland.  As you might know traditional saunas operate at higher temperatures than infrared ones.
The Combination line, as you might have guessed, features saunas with both traditional and infrared heating, and you can choose which one you want based on your preference.  There's only one 2-person model, but you can add IR to any model you choose.
Check out all the saunas at the official Heavenly Heat site here!
(Mention Sauna Talk for special pricing)
The Pros
Why would you choose Heavenly Heat Saunas over other brands? There are a number of reasons. Let's take a look at some of the pros.
Perhaps the most important benefit is the company's focus on low toxicity.  This makes their saunas a better, safer option than some of the cheaper, poorly made ones on the market.
The saunas have no wood glue, varnish or thin cheap plywood.  They use untreated white poplar wood for all of their units.  Everything is screwed together, not nailed together or attached with toxic adhesives.  The heaters are tested to ensure low EMF (magnetic fields).  They use thick panels.
Their ceramic heaters and FIR designs assure greater far-infrared exposure than with the weak plastic ("carbob") heaters. The units also ventilate much better than others with fresh air continuously being heated as it enters the sauna.
All FIR models only use metal-shielded cables to block the electrical fields. 
If you are extremely sensitive, they also have the option of mostly glass saunas, so there is even less wood.
Another benefit is the fact that all of the saunas are made in the United States.  Although most saunas are made in Asia, even the very good ones, some people prefer to buy things made in the USA.  So if that is something that is important to you, this might be the company you choose.
The Cons
There are a lot of positives when it comes to Heavenly Heat, and so far we haven't come across anything that would prevent us from recommending them.
Note that prices are not available on the site so you will have to reach out to the company via the website or phone to get prices on the various saunas.
There is not a lot of information/research on the site, but again you can reach out to the company for literature regarding low toxicity, low EMF, construction methods, etc.
Also, although not technically a con, each unit is built to order, so it does take a bit more time to receive than if you just bought a pre-fab model. Depending on urgency, this might actually be a pro for you.
The Bottom Line on Heavenly Heat Saunas
For the most part, this seems to be a nice small company focused on providing high quality saunas, especially for those with chemical sensitivities who need the least toxic unit possible.
As such, this company is worth looking into if you have any condition where you need to ensure minimal toxic exposure.  
Give them a call to ask all of the important questions, and if you feel satisfied with the responses, by all means go for a Heavenly Heat Sauna.
Check out the entire lineup on the company site
(Mention Sauna Talk for special pricing)