3-Person Saunas - Choose from Hemlock, Cedar or Fir
Even larger 3-person saunas are so quick and easy to assemble that two people can set one up in an hour. Each kit arrives with floor, walls, door and ceiling ready to attach together with hinges for easy assembly Not only are infrared saunas completely portable they can be set up just about anywhere you can plug one into a 110V outlet.
The Newport Infrared Sauna from Sun Life Saunas is priced at $2990 and comes with their Green Way Technology emitters for better body coverage, a luxury lights package with 7 Chromo lights therapy, hemlock fir wood, full glass doors & windows, oxygen ionizer, cup & towel holders, and a AM/FM/MP3/CD player. Bonus: Includes FREE shipping. You can order options such as cedar wood, DVD player, and an outdoor cover. (Assembled Dimensions/Weight: 59"L x 50"W x 75"H; 515 lbs)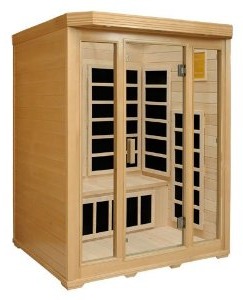 The Keys Corner Sauna sells for $3700. For 3-person saunas, this unit actually comes with 6 high quality ceramic heaters which is a plus. It has a full door and 2 windows with tempered glass, inside and outside digital controls, recessed interior lighting, AM/FM/CD player, beverage shelf and comfort vent. This outdoor unit requires an electrician to hook up a dedicated circuit. It comes with a one year warranty on wood, electronics and heating element; 90-days in-home on labor (Assembled Dimensions/Weight: 59"L x 57.5"W x 74"H; 400 lbs)
Compare Infrared 3-Person Saunas at Amazon
The Active Forever Infrared Sauna at $2500 includes hemlock fir wood, inside controls, tempered glass door and double walls, AM/FM/CD system, and a reading light. This is one of the more boxy-looking 3-person saunas we've ever seen and find that it's not as appealing as other designs, but it does come with a lifetime (limited) warranty on heaters, 3 years on electrical components, and 1 year on the CD player. Note: One the plus side, the company offers FREE shipping, however Active Forever has non-returnable policy on many products they sell. (Assembled Dimensions/Weight: 59"L x 40"W x 73"H: 450 lbs)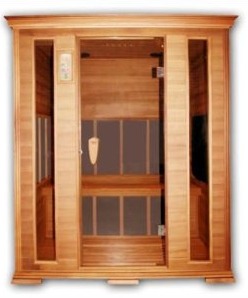 The SaunaGen Royal Sauna III at $2300 looks beautiful in the corner of a room. Using 6 ceramic heater elements and made from hemlock wood, it's got a full glass door and two side windows, an AM/FM/CD player, color therapy lights, internal and external digital temperature control and timer. The operating temperature is 110°F - 125°F. The unit comes with a 5 year warranty on heaters, control panel, circuit board, and wood, and 1 year on the CD player. What we like about this one is that it's a bit wider so one person can stretch out on the bench. (Assembled Dimensions/Weight: 61.7"L x 61.7"W x 74.8"H: 369 lbs)
All of these 3-person saunas are about the same price as 2-person units so if you have the space, you should opt to get a 3-4 person unit if you can. You'll enjoy the extra room and it won't feel so claustrophobic. In addition, these home infrared saunas are high efficient, low cost units to operate and they all come with heater elements that normally last 15,000 hours of expected operating time — they'll last you a lifetime.