Finlandia Outdoor Sauna Plans, Kits & Design Layouts
When choosing a design for your outdoor sauna plans, you are probably looking for a freestanding, self-contained unit that is easy to install, looks beautiful, and will provide years of use with minimal maintenance.
One popular builder of outdoor saunas is Finlandia, who designs and ships pre-cut and pre-fab units. When planning which type of sauna kit to order, you should understand the difference between these kits:
Pre-cut kits require you to do your own framing and insulation. The plans will show you how to assemble the kit; you will need to attach the tongue and groove panels to the inside of your frame.
Pre-fab (also known as pre-built) kits come in modular insulated panels that arrive ready to assemble, no framing or insulation is required. They come in indoor and outdoor models; the outdoor kits have a roof package option. All you provide is the waterproof floor. These are the outdoor saunas plans we'll be discussing here.
What You Get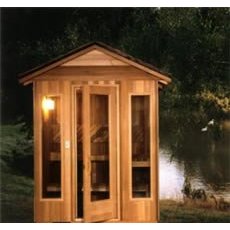 A Finlandia Outdoor Sauna is available in sizes ranging from 4' x 4' to 8' x 12' (exterior dimensions), and anywhere in between in ½ ft. increments.
The kit comes complete with the building plans, all pre-built and insulated wall and ceiling panels, assembled benches and headrests, pre-hung glass door, sauna heater with built-in controls, volcanic rocks, heater guard, interlocking flooring squares, light fixture, vents, instructions, bucket and dipper, thermostat and bathing sign.
When you're ready to assemble the outdoor sauna, the wall sections attach without any screws or bolts, and the electrical hookup is easy: it's an electrical conduit sealed within the walls.
Finlandia Pre-Cut, Pre-Built and Outdoor Saunas
The Finlandia Pre-Fab (FPF) Outdoor Sauna comes with an unassembled cedar shingle roof package. The roof package includes wood plates, prefab rafters, nailers, facing, metal flashing, cedar shingles, ridge cap, and nails.

Options in Outdoor Designs
Here a few other options you can select in your outdoor sauna plans:
Positive or Negative etched-image glass door
Cedar exterior (mahogany plywood is the standard)
Side windows
Exterior controls
Design Layouts
Finlandia offers sauna plans and room sketches of designs on their website so you see the layout of the door, heater, and benches, as well as get an idea of how many people can use the sauna at the same time. The plans can be for a minimum of two people and up to eight people to sit in the largest outdoor sauna they sell.
Why Choose Finlandia?
This company has the distinction of being the only company in North America to offer planners such a large variety of top quality sauna wood. You can build your outdoor sauna in Clear Western Red Cedar, California Redwood, Alaskan Yellow Cedar, or Clear Western Hemlock. (Finlandia will even send you samples upon request so you can determine your favorite.) All of these beautiful soft woods are dry-rot and termite resistant, won't warp, and have a refreshing aroma.
Warranty
Included with your outdoor sauna plans and kit is a one year warranty on room materials and workmanship and five years limited warranty on the sauna heater.