A Swim Pool, Spa or Sauna Enhances the Value of Your Home
You can save a bundle and add a pool, spa or sauna to your home by doing much of the work yourself. With real estate values unsteady these days, a luxurious home spa pool will give you enjoyment every day while you still live in your home, and if it's a permanent improvement it will increase the value of your property.
You've no doubt already spent a lot of hours researching the costs involved of having a pool, spa or sauna installed, but have you considered going the "do-it-yourself" route?
We cover the advantages of pre-cut sauna kits extensively on this website, but we'd also like to point out that many pools and home spas are also available for homeowners to do their own installation.
We aren't referring to large in-ground swimming pools, of course, which need a backhoe to dig the ground and a general contractor to build the pool. But if you have a small space available off the deck or patio, or room in a garage, you can consider installing smaller pools, spas or saunas.
The Endless Pool
Wouldn't it be nice to cool off after the sauna? Then have a look at the Endless Pool, also known as the swimmer's treadmill. They look like rectangular home spas that have an adjustable current for swimming in place.
At Endlesspools.com they sell these 8' x 15' pools that fulfill the dreams of every lap swimmer who wants a home pool. The company will even send you a DVD free of charge that answers questions such as what are the operating costs (same as a home spa), what maintenance is required for the water quality system (very little), and goes on to describe how the width, length and depth of the swimming pool can be customized to your specific needs.
Build Your Own Custom Spa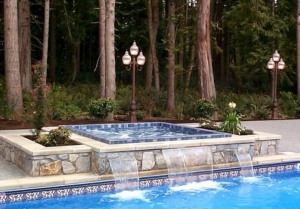 Gene Trumbull of CustomBuiltSpas is a master spa builder giving tips and information about how to save money by building your own home spa. Just to give you some examples of what these building books and CDs cover: how and why you should eliminate up to 95% of the chemicals typically used for water treatment in a hot tub; how to reduce operating expense up to 70%; how you can do your own work (even if you're a novice) and save thousands over the cost of hiring a professional to design and construct a custom-built spa.
They show you step-by-step instructions on how to do the project. There's also a money-back guarantee on all the books they sell at their website.
I reviewed Genes' manual on how to build a custom spa or hot tub and found that the idea of building your own spa is actually a very reasonable and an affordable project! His step by step directions are easy and detailed enough to follow and explained in simple language that everyone can understand. To ensure your success he even lists his e-mail address and phone number if you have any questions. Now that's standing behind your product! - Chris Tabone, VT – http://www.handymanwire.com
Build Your Own Outdoor Sauna

How about something even more challenging? If you're interested in attempting cordwood masonry to build an outdoor sauna or pool cabin (as costs can be considerably less than a standard wood frame), there's a how-to book we can recommend, Sauna: A Complete Guide to the Construction, Use and Benefits of the Finnish Bath by Robert L. Roy. It sells for around $20 and covers details of construction, instructions for proper use and maintenance of an outdoor sauna, and how to build a unique variety of cordwood masonry saunas.
Adding a pool, spa or sauna to your home can significantly enhance its value. Ask any appraiser or real estate agent and they'll say that, of the improvements you can do to give you the best return on the dollar, making an outdoor space more usable ranks in the top three.
Resell-wise, a well-designed outdoor sauna or spa-type pool is never a money pit but an attractive addition that fetches a return on your investment.