Portable Steam Saunas Reviewed
Portable steam saunas are an economical and easy way to enjoy the benefits of steam therapy in private. Like full-size saunas, a home steam sauna aims to improve circulation and increase cardiovascular activity by dilating the blood vessels through heat therapy and sweating.
A daily or bi-weekly steam sauna session can help you better manage stress, improve your health and feel better all around. That works for sauna rooms and cabins, but what about the portable personal-size units?
There are many models of personal home saunas that work well, but we took a random look at three examples of portable steam saunas that come in the form of "tents":
1-Person Portable Steam Sauna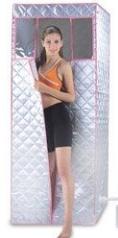 Priced at around $245, this is a one-person portable sauna that sets up in about 3 minutes. You can either sit or stand while inside and it offers a quick releasing sheet that can be pulled apart quickly to let fresh air in. It comes with a frame, large steam sauna tent, manual control, mat, heat retardant glove, and steam hose.
Compare Popular Portable Steam Saunas Here
A one-year warranty on parts and labor is included. There's no maintenance to it, and since it requires no plumbing or wiring, anyone can set this portable home sauna up in minutes. It plugs into a standard outlet and you only need to pour water into the steamer pot and wait for the steam to heat up. It has a "turbo function" on the steamer to get steaming fast. There's also a safety auto shut-off should water run out of the pot.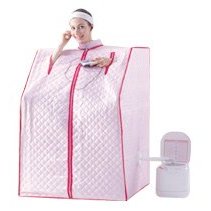 Beauty Home Steam Sauna
This portable sauna similar to the model below and sells for $270: it's a silver and pink tent with a folding frame, a manual control steamer, and comes with a head cover that can be attached for enclosing the head and allowing facial exposure to the steam. It has a 2-year warranty on parts and labor.
Best Value Steam Spa
Another even cheaper portable sauna is this $180 model. This is a manual control sit-down sauna that has holes cut for the head and hands to be free. It boasts that it's a high performance manual control steam sauna, yet customer satisfaction on this model is lacking. Many consumers complain that it does not heat up enough, or produce enough steam to sweat efficiently.
Heating Issues With Portable Steamers
Many consumers have issues with these types of portable steam saunas and even though they've been around for years, they don't have much of a following.
A couple more concerns we noted on these home steam saunas, is that the manual is written in broken English (always a bad sign), a feeble 3-month warranty on parts and labor (always a red flag!) on the Beauty Home Steam Sauna, and customer service from the company was poor.
It's an old cliché that you get what you pay for, but even at $180 to $270, these portable steam saunas are a rip-off. Here's an alternative: check out the benefits of infrared saunas and the affordability of domes, bags, and blankets made with infrared sauna technology.
These portable saunas run from $250 to $800, offer extensive health benefits, and there's no water to mess with.