Compare Prices of Home Saunas Before You Buy
The prices of home saunas are more attractive on the internet and for good reason. Without having the overhead cost of operating a store front, dealers of traditional and infrared saunas are able to pass the savings on to you. Furthermore, if you can find a pre-fab sauna manufacturer that also offers free shipping, you've found a great deal.
Prices of 2-6 Person Home Saunas
Which is the right sauna model for you? You'll likely start with determining the size you need first; that is, if a two-person model will do, or should you step up to a roomier four-person design. As a rule of thumb, you should compare prices of home saunas in related sizes, with more consideration given to the larger size which will not be that much more expensive.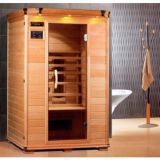 Infrared home saunas can be bought on Amazon for as little as $1200, pricier high end models will run about $4500. You can buy the Buena Vista 1-Person Home Sauna priced under $1000, but if it is at all possible and if you have the room in your home, you should avoid the claustrophobic one-person units. For example, the Radiant Sauna 2-person sauna priced at $1300 is only a few hundred dollars more than the One-Person Home Sauna.
Compare Prices of Home Saunas at Amazon
One eye-opener is the Radiant Sauna BSA1323 priced at $2800. Who would have thought a 6-person home sauna could be found online for under $3000? It's easy to set up and just plugs it into a normal 110v wall receptacle - there's no electrical or plumbing required. This is a good-looking unit that measures 75" x 59" x 76" and warms up in 10 minutes. It's one of the best-priced infrared home saunas we've seen.
Prefer to go directly to the manufacturer?  Check out our list of the Best Infrared Saunas on the market today, which gives you the top 5 brands to choose from.  You can request a price quote or call up for more information.
What Comes With It
When comparing the prices of home saunas, take into consideration the accessories and additional options that come with the sauna. Some home saunas include all the bells and whistles such as: DVD player/radios, speakers, aromatherapy, ionizers, automatic cut-off controls, and so on.
While some features only serve to drive the price up, other built-in options can be a bargain so consider the accessories carefully if you've narrowed your choice down to a few models.