Sauna World Championships Contest Fallen by the Wayside
Using a sauna is usually a combination of relaxation and health treatment, but the Sauna World Championships, held in Heinola, Finland, raises the sauna to new heights.
The contest began in 1999 and continued until the 2010 competition, which ended when one competitor died. Whether future world championships will be held is unresolved for now. Prior to this, there had no been a problem with competitors' health, and proponents of the sauna contest feel that the incident was an isolated one.
The Rules of the Sauna World Championships
There were several rules in place for the World Championships that were designed to make the sauna competition fair and protect the health of the participants. Among the rules were: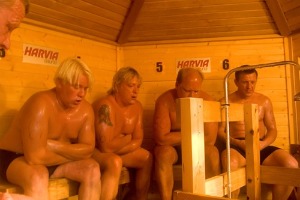 Each contestant had to enter and succeed in preliminary rounds before being allowed to compete in the finals.
Contestants had to be healthy and have experience participating in sauna competitions.
Each World Championship contestant had to wear an approved style of bathing suit at all times.
No lotions, creams, etc. that might inhibit perspiration were to be worn at any time.
A half liter of water was poured over the heat element every 30 seconds in order to provide consistent heat and steam.
The sauna temperature was maintained at 110° Celsius, or about 230°Fahrenheit.
Participants were regularly asked to give a "thumbs up" to the judges to indicate they were not in danger.
Medical staff are on hand at all times.
Advantages of Moderate Sauna Use
The unfortunate end to the Sauna World Championships of 2010 won't necessarily result in less interest in sauna contests or sauna fests around the world.
In most cases, other sauna competitions aren't as intense and are more relaxed in nature, with less emphasis on extreme endurance. The temperatures in typical at-home use saunas are generally kept between 70°-80° Celsius (158°- 176°Fahrenheit).

Using a sauna at these temperatures cleanses the body, flushes away toxins, and improves circulation. The heat also produces a state similar to that of a low grade fever, triggering the immune system to produce more white blood cells, antibodies, and even interferon.
Increased cardiac load and an increased heart rate are also beneficial because they keep the heart healthy and strong.

Alternatives to the Sauna World Championships
Finland is so dedicated to enjoying their beloved saunas that they offer other sauna festivals that aren't focused on endurance. These are the festivals that are more about being together with other sauna enthusiasts in a safe and fun atmosphere.
The annual Mobile Sauna Fest is all about good, clean fun for the participants. People bring portable or handmade saunas of all types to Teuva's Sauna Fest in order to see and be seen.
There is a good deal of laughter as some competitors bring their mobile saunas into view. In previous years, festival participants demonstrated homemade saunas made from old sheds, trailers, and even a Datsun automobile. Elaborate, decorative saunas were hits with children.
The Sauna World Championships may have fallen by the wayside after 2010's extreme results, but more moderate, healthful sauna contests, fests and competitions continue to draw crowds of Finnish sauna enthusiasts.