An Affordable Far Infrared Portable Sauna
One of our favorite designs in a far infrared portable sauna unit is the Dreamline Classic. FIR saunas represent a significant advance in sauna technology, and these portable saunas are surprisingly affordable for users who can only dream about installing a high-end $8000 custom built sauna.
As you have probably done some investigating into the health advantages and risks of the far infrared portable sauna, you may already know that exposure to the FIR wavelengths is completely safe. FIR is able to penetrate through skin to the subcutaneous tissues as it transforms from light energy into heat energy.
Its healing properties help to boost the immune and cardiovascular systems, detoxify the body, and burn fat and calories. As the direct light conversion penetrates 2" - 3" deep into the body, the bather experiences gently warmth; a portable far infrared sauna only warms the object and not the temperature of the air in the room.
This deep penetration of energy is believed by some to have more medicinal advantages than a traditional Finnish hot rock sauna.
A Portable FIR Sauna on Wheels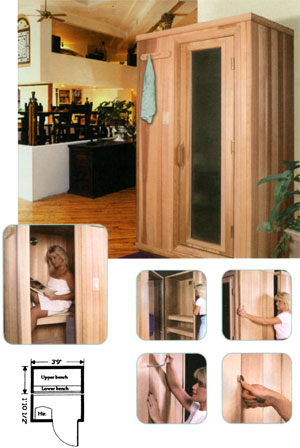 Now you can get this incredible high tech far infrared technology in a portable home sauna. Take a look at the DreamLine-Portable-Sauna, which is one of the most attractive portable units we've ever seen. As for moving the unit into your home, it's even on rollers and moves easily -- so portable really means portable! It sets up in minutes (basically you just plug it into an electrical outlet) and you're ready for your first sauna. The specs on this far infrared portable sauna include:
Plugs into standard 15amp wall outlet
Measures 2'x 4'
Room enough for 2 people
Made of attractive cedar wood
Cedar door has a full-length window
Max temperature of 186°F
Vapor-Loc wall mounted sauna light included
Heavy duty wheels, plus wall-locking mechanism
Narrow enough to fit through any standard doorway
This portable far infrared sauna comes with a timer, thermostat and a self-closing cedar door.
Of all the pre-built far infrared saunas we've seen, the portable Dreamline Classic stands out above the competition. Since it is an FIR unit and not a traditionally heated sauna, you won't have to be concerned with humidity inside this portable sauna as the technology requires no water. In addition, the warm-up time for a far infrared sauna is far shorter than a traditional Finnish sauna (10 minutes versus 30-40 minutes!) which means you can begin your sauna session almost immediately.
Benefits of Portability
Since this home infrared sauna is a self-contained unit, you won't have to stress out over the problems of installing a pre-built or pre-cut sauna in your home, or the need to hire a licensed electrician to do the wiring, or a professional contractor to rough in an insulated frame for your home sauna.
With a far infrared portable sauna, all you have to do is plug it in and you'll be enjoying the soothing warmth in minutes.