Influence Sauna Review - Are the Full Spectrum Saunas Worth It?
Influence Sauna is a relative newcomer to the sauna market, offering carefully crafted infrared saunas manufactured by Finnmark Designs.
Working closely with Finnmark, who have been manufacturing saunas for 45 years, Influence Sauna provides full spectrum infrared models, as opposed to the far infrared saunas that you typically find from other providers.
Using the high grade materials and rigorous third party testing, all of their models are designed to maximize health benefits and reduce exposure to EMF's and other potentially harmful electrical frequencies, helping you to rid your body of built up toxins and improve your overall health. 
Let's take a deeper look at what Influence has to offer...
A Look at the Saunas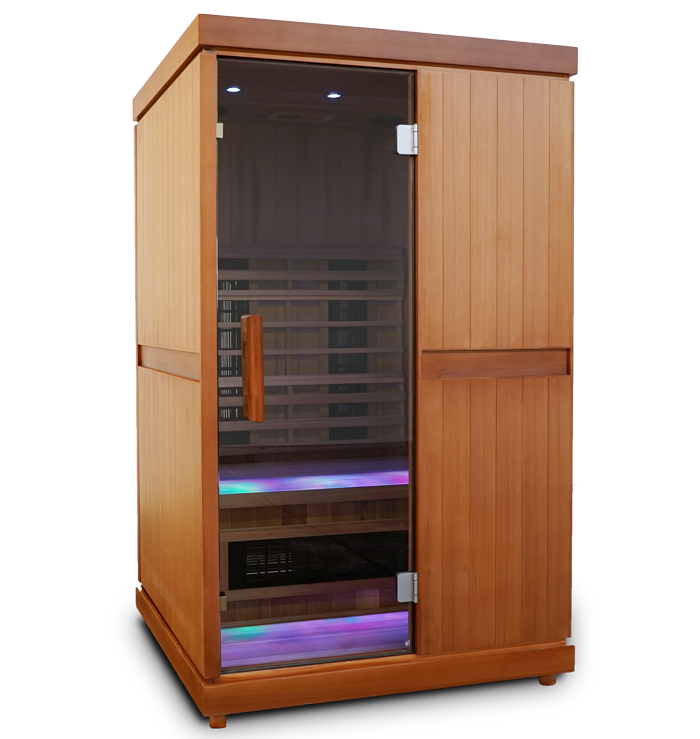 All Influence Saunas use only high quality grade "A" Canadian Western Red Cedar, which has natural antimicrobial properties that help prevent fungi and mold. Cedar is one of the best woods for saunas, and many of the top brands use it.
The Spectrum heaters are designed and certified to be low in all four types of radiation – EMF, ELF, EMI, and RF – and have both carbon and ceramic elements combined, allowing them to reach a therapeutic heat that maximizes health benefits. 
They can be installed inside or outside, provided you also use the special waterproof outdoor cover, so that you can enjoy your sauna therapy wherever you want, and with 0% financing available they are easily affordable for almost any budget. 
 Influence offers three sauna models, the Influence Hybrid, Influence 2-3 and Influence 3-4. All offer the same sleek design and infrared technology that maximizes health benefits and differ only in size, ranging from the Hybrid, which fits two people, to the larger models that comfortably fit 2 or 3 people and 3 or 4 people respectively.
The smaller Hybrid model plugs directly into any standard 120v 15a outlet so no electrician is required for installation while the larger models require an electrician.
Each Influence Sauna offers the same range of features, including a Bluetooth controller, reversible ergonomic bench and an ergonomic backrest made with evenly spaced rods that allow better air circulation for your skin and lumbar support that follows the curves of your body and distributes your weight evenly to reduce pressure on your back.
You can also purchase a waterproof outdoor cover separately to protect your sauna from the elements if you opt to install it outdoors.
The Pros
Although we haven't had much feedback from customers to date, Influence Saunas seem to be a good choice.
The founder of Influence, Robyn Openshaw, is a former psychotherapist and the driving force behind "Green Smoothie Girl". She has been focusing on health and wellness for over a decade and has now focused her unique approach on providing a line of infrared saunas specifically designed to help boost your body's natural detoxification process and improve your health.
Influence Saunas are designed to provide maximum health benefits, from the materials used, to the unique full-spectrum heat source and the careful construction process.
All of Influence's models use FSC certified grade "A" Canadian Western Red Cedar which not only provides a sleek, luxurious look that lasts a lifetime but also has natural antimicrobial properties.
Individual panels are hand selected and matched to a furniture-grade finish to enhance the beauty of the sauna and the saunas are manufactured without the use of toxic stains, glues or chemicals to further enhance their health benefits.
The Hybrid, 2-3 and 3-4 models all feature Spectrum infrared heaters that include a unique combination of carbon and ceramic elements that can reach a temperature of 170̊, which has proven health benefits and is far higher than any other sauna on the market can reach. They are specially designed to produce both far-infrared heat, which reaches deep into the body where toxins are stored, and mid-infrared heat, which helps with inflammation and healing. 
At the same time, the LED lights in the sauna produce near-infrared heat, the shortest infrared wavelength that helps with wound healing, cellular repair and skin renewal. With all three types of wavelengths you are getting a full-spectrum effect and unlike many other saunas that achieve their full-spectrum heat with the use of dangerous food lamps, Influence Saunas provide the same benefit safely with low EMF heaters. 
They are also guaranteed to have low radiation, including ELF, EMF and RF, so you can be assured that you're getting the safest possible sauna experience. In fact, they are one of the few infrared sauna heaters in the world to hold the Underwriters Laboratories (UL) mark.
The benefits continue through the construction process. Each sauna is carefully constructed using screws, rather than unsightly buckles and clips, to ensure the tightest seal and the safest final product, along with a clean, attractive look that fits in with any room design. They also avoid the use of high-powered magnets which can be dangerous for people with pacemakers.
Each sauna is assembled to test the electrical components, wood structure and radiation so that you can be sure you are getting the best quality possible. The solid wood frame is built to last and is healthier than plywood frames, which can emit toxic fumes when exposed to heat.
The Cons
There is a lot to like about Influence Saunas but as with any product, there are always some things to look out for.
It's worth noting that, rather than providing their own product as other companies do, including our top choice Clearlight/Jacuzzi saunas, they are simply a reseller and it is possible to get the exact same models directly from the manufacturer, Finnmark Sauna Designs, via a connecting link on the Influence site.
So since you can buy directly from the manufacturer, we don't see any benefit from buying from a reseller.
We called up Influence Sauna and Finnmark Sauna Designs but were unable to reach anyone. We'll update this review with more info once we hear back.


The Bottom Line on Influence Saunas
As far as the quality of their offerings, Influence Saunas look good. They are made from high quality wood and have high quality heating elements. We like the fact that there is 3rd party testing available as well.
Our only hesitation is the fact that they are a reseller, not a manufacturer, so we don't really see any advantage to going through them rather than the manufacturer, Finnmark Sauna Designs.
It's also worth noting that Finnmark Sauna Designs is not affiliated with Finnmark Sauna, a UK provider of top brand traditional saunas.