Nudist Sauna Etiquette in Scandinavian Countries
All right, here is the big secret on nudist sauna etiquette in Scandinavia: almost everyone in Finland is naked. Hold your horses—we don't mean the entire region is a nudist camp. What we mean is that the saunas in Finland don't require clothing while taking a steam. Nudism in the country is fairly commonplace, and nudity in public places, like health spas or traditional saunas, is not very restrictive.
Why Nudity is Tolerated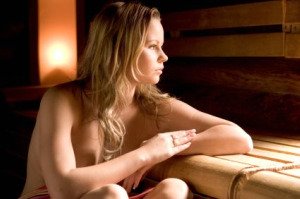 Although the actual Scandinavian territory consists only of Denmark, Norway and Sweden, Finland is still considered a Scandinavian country. Why are the Finnish people so keen on nudity? It's not only because they are a world away from the sex-centric U.S., but also because the traditional Finnish Sauna is an important part of their cultural identity. Finnish saunas date back to the 1500s and have been historically viewed as very spiritual places of healing and comfort. It's not uncommon for entire families or business associates to go into a sauna together, sans clothing.
Remember too that when you are in a sauna, your objective is to clean your pores, and this requires maximum skin exposure to the heat, humidity and the light. Not only is it considered disrespectful to wear clothes inside a sauna, but also guests are told not to wear anything inside—including a bathing suit. This policy is usually to protect the users from the threat of chlorine contamination, which can come from bathing suits that were just in the pool. Nudist sauna establishments tend to be "mixed" meaning there is a mix of male and female visitors. All visitors are required to practice good hygiene and sit on a towel while inside the sauna. Furthermore, they must wash their bodies in a shower before stepping into a bath or a sauna.

The Scandinavian View of Nudity
As stated, nudity in this country is widely accepted. Therefore, do not think of a nudist sauna facility as anything remotely sexual. Sexually provocative behavior in public places is not allowed and these offenses are punishable by fine. Nudity in saunas is even less of a scandal, considering how friendly the people and the government are to nudity in general, especially outdoors. Throughout the area there are numerous naturist beaches with clothing optional policies. Some of the most popular beaches for sunbathing include Pihlajasaari Beach, Seurasaari Beach and Yyteri Beach. All of these beaches welcome men and women. Norway offers 20 clothing optional beaches while Sweden offers 60 nudist beaches.
In addition to saunas and beaches for nudists, guests can also enjoy select swimming halls which have no bathing suit requirements. One such establishment is the Yrjonkatu Swimming Hall. However, the facility and some other saunas may have segregation policies separating genders for periods of time.
Why are the Scandinavians and Finnish people nuts about nudist sauna facilities? It's not only because the people are open-minded—some studies suggest a nude recreational lifestyle can improve relaxation, exercise, stress relief, and enhance a person's self-esteem and body image.