The Nude Sauna – a Finnish Sauna Tradition
The nude sauna is to Finland what the pub is to England or the café is to France. Everyone does it and it is a way of life to the Finns, who consider it reverential, whether they use the sauna for conducting business or relaxing with all ages of the family together at the end of the day. The custom of naked saunas is traditional and goes back for generations.
Sauna Customs and Etiquette
The Finnish nude sauna is comprised of alternating sessions or rounds (each is called a gang in Finnish) of hot and cold: sauna then cool down, repeated as many times as you like. You should also try the Finnish custom of whisking your naked body with wet birch branches to open the pores. Very invigorating! Other than that, there are just a few things to keep in mind when you tae a Finnish sauna in the nude:
Shower first. Everyone must shower in the nude before entering the sauna; it helps keep the sauna clean. At public facilities after coming out of the pool, even swimsuits are forbidden in the showers and you are likely to see a sign with a picture of a black swimsuit with a red circle around it and an "X" through it, indicating you must be naked: "no swimsuits allowed". Nordics think that wearing a swimsuit in the shower is an odd idea, akin to wearing socks in a shower.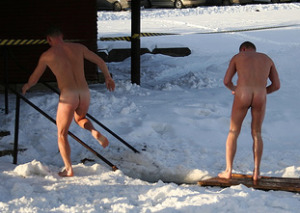 Use a towel. When you step into a nude sauna, it's customary to place a towel on the bench before you sit on it with your naked butt, or use a disposable towelette that some public facilities offer.
Relax and take your time. Enjoy several sessions of the sauna in the nude and at your own pace, just don't over-do it. The sauna experience is good for your mental health not just your body, so sit back and enjoy the löyly.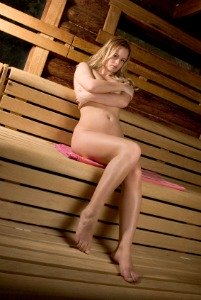 You'll find many hotels in Europe have spas that are comprised of collections of sauna rooms, steam rooms, bath, mud chambers, and showers.
They are busiest in the evening, after 5 pm, when the ski lifts have closed or people are generally winding down after an active day. There will be a hoard of totally nude people of various sizes and conditions sweating it out stark naked, and not just in the sauna.
At a public co-ed nude sauna, you may even have common dressing rooms and showers, as well as the sauna and cool down areas.
Forget Your Inhibitions
You may dislike the idea of going nude into a public sauna, especially those that are co-ed or mixed sexes, but being naked is quite normal in Europe and in many parts of the world. One important point you must remember though, is that while you are all nude in the sauna, there is nothing sexual about everyone's nakedness.
You may have inhibitions about mingling in the sauna with other nude bathers, or feel uncomfortable sitting next to Sasquatch man with the furry back, but you'll feel more comfortable once you experience your first public nude sauna. After that, you'll want to take in a sauna daily - just as the Finns do.
Nudist Sauna Etiquette in Scandinavian Countries
The Increasing Popularity of Naturist Saunas