Our Selection of Sauna Books
Sauna: A Complete Guide to the Construction, Use, and Benefits of the Finnish Bath

This is one of those beautifully illustrated sauna books that will inspire you to build your own home sauna. Author Rob Roy is a sauna expert and avid do-it-yourselfer giving detailed instructions on how to build cordwood masonry and conventionally wood-framed saunas. Everything you ever wanted to know about Finnish saunas is contained in this completely revised and expanded edition on sauna building, along with sources for building supplies and equipment. This sauna book will produce a new generation of sauna enthusiasts.
The Art of Sauna Building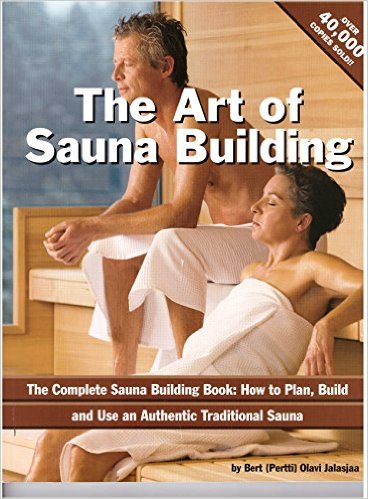 If you want to build your own sauna, you must get a copy of this book. The Art of Sauna Building is a very thorough how-to-guide that takes the reader through every step from designing to operating your home sauna. Author Bert Jalasjaa covers everything in this comprehensive DIY sauna book, from small indoor saunas built into an existing room to full-size outdoor saunas. Detailed diagrams and layouts outline every step.
Hot Tubs, Saunas & Steam Baths: A Guide to Planning and Designing your Home Health Spa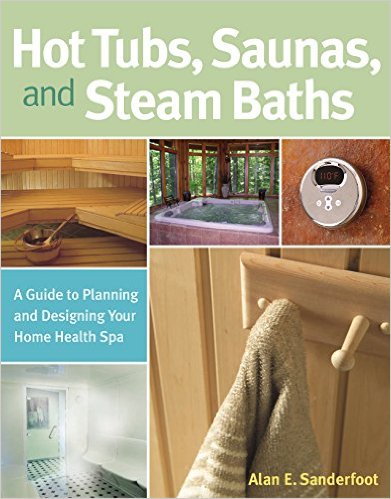 Hot Tubs, Saunas & Steam Baths provides useful background information for anyone interested in designing a home health spa or sauna. Author Alan E. Sanderfoot explains the installation and environmental requirements, addressing such issues as water, drainage, floor and ceiling surfaces, vapor barriers, doors, fencing, and lighting, as appropriate. The book contains lots of advice on how to make the most of your home spa, sauna, or steam bath, with information on accessories, health benefits, and safety considerations. This book on home spa and saunas is all about planning and designing; it's not intended for the do-it-yourselfer and you won't find detailed instructions on how to actually build a spa.

Sauna: Hottest Way to Good Health
Author Giselle Roeder introduces the sauna novice to the health benefits of the Finnish sauna. Sauna: Hottest Way to Good Health is recommended reading for those interested in taking care of their skin using saunas.

The Sauna Is: Revised and Expanded
This sauna guide book defines the authentic sauna experience and presents "some cold facts about a very hot place." This book clears up a lot of misinformation about saunas and is written for those who have never experienced a sweat bath before. The author Bernard Hillila explains how to take a sauna the right way and elaborates on the history of the Finnish national pastime.
Sauna Therapy

Author Dr. Lawrence Wilson shows you how to build a low-cost sauna using off-the-shelf components. One buyer of his book said he built such a sauna in just one afternoon for $150. The Sauna Therapy book contains sixteen chapters dealing with topics such as detoxification, protocols for sauna use, adjunctive therapies, cautions and contraindications.
Some Like It Hot: The Sauna, Its Lore & Stories
If there is one sauna book you should read, it's this fact-filled book giving insights into Finnish sauna traditions. Author Nikki Rajala's discusses the health benefits of saunas in Some Like It Hot gives details on its ancient history and adds humorous sauna stories that make this illustrated book fun to read.

Sauna Detoxification Therapy: A Guide for the Chemically Sensitive
Sauna Detoxification Therapy is a well-researched, thorough, and easy-to-understand guide for anyone suffering from chemical sensitivities. Ms. McVicker's sauna book describes the benefits of sauna detoxification therapy, and looks at options including health clubs, detox centers, and home saunas.
---
Return from Sauna Books to the Home Saunas Index Page