Sauna Maintenance Made Easy
One of the things you will like about sauna maintenance is - there is none! Or at least, very little. While steam rooms and hot tubs are labor intensive, traditional hot rock saunas and home infrared saunas require very little maintenance. The high, dry heat in the sauna has done most of the work for you, as viruses and bacteria can't live at such temperatures.
Baby Your Sauna During and After Use
You can cut down on sauna maintenance by following a few simple steps after your session is finished. By cleaning, you shouldn't just think of the surface areas, but the air quality as well.
To maintain your sauna in an odor-free condition, leave the heater on for an additional 15 to 20 minutes when you leave. This will allow the sauna to dry out completely. Then turn it off, but leave the door open to allow any odors to vent out quickly.
While you're enjoying your session, you can avoid later maintenance of the sauna benches by sitting on a towel. Perspiration can penetrate the soft wood, especially if your sauna heater and rocks aren't hot enough, in which case you'll have heavy steam in the room and not the invisible löyly, which is the desired effect of a sauna.
Not Much More Than a Damp Cloth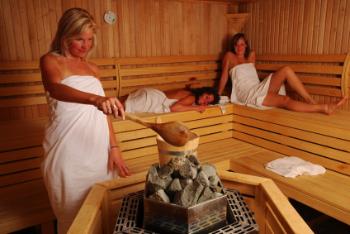 The vast majority of stoves, benches and rooms require very little attention in terms of sauna maintenance and can be cleaned with a damp cloth. If you use your sauna daily, you should plan to wipe down the interior surfaces about once a week.
Sauna flooring, whether it's made of duckboard or plastic interlocking tiles, may be your only concern, but even that is easily cleaned and maintained with any household disinfectant and warm water.
Sauna maintenance on the benches and backrests is also a simple task since they can be wiped down using mild soap and water. Just be sure you don't soak the wood. You must never use any heavy detergent or any type of sealer or coating on any of the interior wooden parts or benches since residues from these chemicals can release toxic vapors in the high temperature of a sauna.
As for maintaining the sauna rocks, they won't last forever, so you should plan on replacing them entirely once a year or when they become too small. On a monthly basis, it's a good idea to take the stones out of the tray and remove any dust with a vacuum cleaner. You can also replace any crumbled rocks at this time with new ones.
Start a New Sauna off Right
One maintenance task you should attend to right away, though, is preventive: once your sauna is built or newly installed, start off right by prepping and curing it before its first use.
Curing a sauna means simply operating the heater for the first time to allow the hot temperature to break in the heater and woodwork. Leave the heater on for about an hour, and keep the door ajar to allow the escape of any odor or initial smoke. That's it for sauna maintenance!