Tylo Sauna Heaters - Deep Tradition & High Quality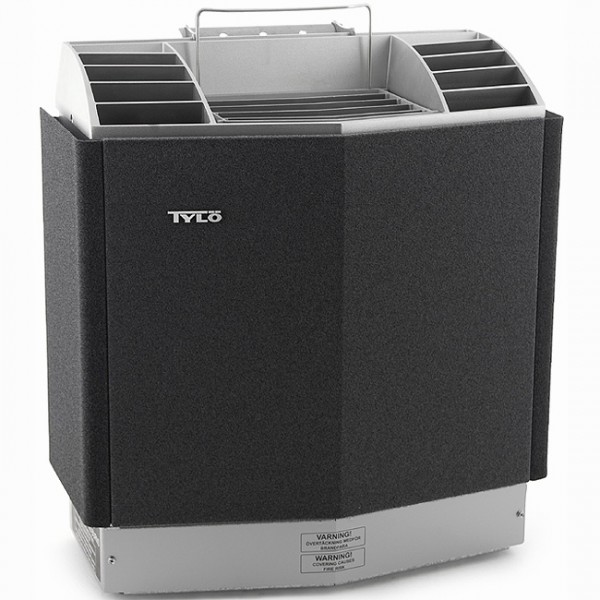 Founded in Sweden in 1949 by electrician Sven-Olaf Janson, Tylo has evolved into a global company with a focus on all aspects of wellness. The company took off when Janson designed a sauna heater that was less expensive and more efficient than any of the others on the market at the time.
In the 1960's they added an integrated timer and surrounding stone compartments to their sauna heaters. The innovations continued in the 1970's with their new proprietary technology that incorporated an automatic shut off, ensuring that the sauna would shut off if something combustible was accidentally placed on top of it.
During the 70's and 80's, Tylo expanded its offerings to include shower stalls and steam generators.  By the early 1990's, they had become a global force and they expanded their reach to bring the sauna experience to the whole family. The Combi heater, with its unique ability to allow each user to control both heat and humidity levels, as well as the ability to incorporate aromatherapy, took sauna to the next level. 
By the end of the decade, Tylo was offering the "Tylette", a steam room, rainshower and aqua massager all in one, offering an experience like no other. Founder Sven-Olaf Janson stepped down in 2001 and in 2008 the company was sold to the Dutch capitalist firm AAC, which already owned Tylo's main competitor, the Finnish company Helo. The brands combined and in 2017 became one entity under the name TylöHelo.
Tylo Promotes Wellness Through Sauna
From its inception, Tylo has put its focus on promoting wellness. Today, that tradition remains just as strong through their full line of sauna rooms, electric sauna heaters, and sauna accessories, all designed to blend together for a soothing, calming and rejuvenating experience.
They offer a range of sauna room options, from their sleek, modern modular rooms to their Passport line of "plug-n-play" saunas. Simply assemble and plug in any of the three models in this line and you're ready to enjoy your sauna experience in any location you choose.
For outdoor enthusiasts, Tylo offers two options, the Patio and Euro Patio models, both of which are easy to assemble and install, come in a range of sizes and feature Western Red Cedar details.
If you want a more custom approach to your sauna design, Tylo also offers Bespoke Sauna Rooms.  You can choose various wood types, bench styles and heater and control packages to create a sauna that truly suits your personality.
Tylo Electric Heaters
Having been founded by an electrician, it's no surprise that Tylo focuses on electric sauna heaters. That singular focus has allowed them to develop heaters that are energy-efficient, stylish and durable, giving you the best of all worlds.
All of Tylo's electric heaters feature their unique Intelliar system with dynamic air chambers that provide enhanced hot air distribution with energy savings of up to 30%. The angled grill ensures optimum heat distribution and the built-in steam generator lets you control the steam level in your sauna. The stone compartment is located in the center of the heater and runs the full length of the heater, allowing almost complete evaporation of the water added for maximum steam production. 
Their Junior and Vicki models are designed for use in smaller saunas.  Both are wall mounted and they have a 25 and 50 rock capacity respectively. Both work with Tylo's SaunaLogic2 control that includes full mobile functionality, so you can control your time, temperature, lighting (including optional color lighting) and Bluetooth sound system with any mobile device.
Tylo also offers their Sense line of electric heaters, which includes the Sport, Pure, Elite Combi Pure and Combi Elite. All Sense models include Thermosafe protective coating which protects against accidental burns. Thermostats and temperature controls are also designed with safety in mind so that you don't have to worry about overheating. They also have Split Output functionality that reduces the power output once the set temperature is reached. They can be mounted on the wall or floor to fit into any design.
The Sense Sport, which is the base model, has a control panel built in with control knobs at its base while the other models all work with a digital touch control panel for ease of use. The Combi Pure and Combi Elite offer the ability to enjoy either dry or steam sauna options, with the addition of aroma and mineral therapies for a complete healing experience.  Both the Elite and the Combi Elite, which are the newest additions to Tylo's line, feature the Elite control panel with WiFi connectivity for added convenience.
Tylo Infrared Heaters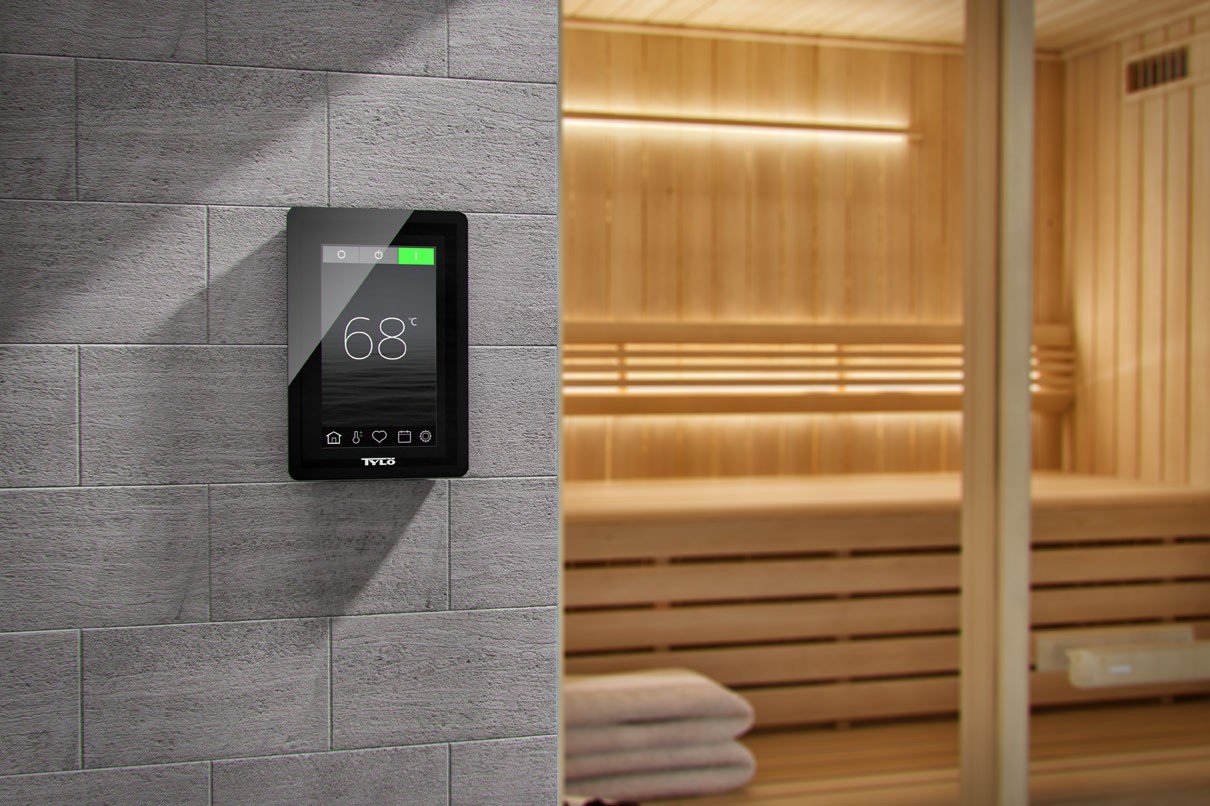 Tylo also offers a selection of infrared saunas that combine infrared technology with furniture quality finishes. Their B-Series rooms all have prefabricated wall panels made of T&G Canadian Hemlock and feature Low EMR/Low EF CarbonFlex heating panels integrated into the walls and bench supports. These panels have the largest heating surface in the industry, which means they are guaranteed to provide the softest heat evenly dispersed from all sides so you won't have any cold spots.
As with their traditional sauna rooms, Tylo also offers a Bespoke option with its Infrared saunas so you can design a sauna to your own specifications. The Bespoke saunas also use Low EMR/Low EF carbon panels and a traditional Viki sauna heater can also be incorporated to create an "InfraSauna" that combines the best of both the infrared and traditional sauna experiences.
Design Elements & Accessories
Tylo's quality doesn't stop with heaters and pre-fab sauna rooms. They also offer an impressive range of design elements that can be incorporated into their Bespoke models. You can choose from one of four designs: Classic, Classic Slim, Classic Wide and Panorama as well as three types of glass doors/wall panels.
The sauna panels come in a variety of widths and you can choose from either Aspen, Western Red Cedar or their specialty, Taika plywood.  Mix and match sizes and styles to create your own unique look, the possibilities are nearly endless.
To make the most of your sauna experience, Tylo also offers a full range of accessories designed to incorporate seamlessly with any of their sauna styles. You'll find everything from buckets, ladles, thermometers and towel racks to pillows, towels and seat covers made of a prewashed cotton-linen blend. You can even get a terry back washer and wash mitten to help clean and exfoliate your skin.
Tylo Connects With its Umbrella Website
Tylo maintains its tradition of quality and craftsmanship, with all of its high quality materials manufactured in Sweden. This enables them to offer a substantial 5 year factory warranty, so that you can breathe easier when you purchase any of their saunas, sauna heaters or other products.
At the same time, they have also expanded their reach with their umbrella website that combines products from Tylo and the other brands now included under the larger TylöHelo Group brand. These include Kastor, Finnleo and Amerec.
While they have expanded their reach with the recent merger, the Tylo name is still synonymous with energy efficient, durable and reliable electric sauna heaters. As always, you can find the quality you expect from the Tylo name for the ultimate wellness experience.