About Commercial Saunas, Public Sauna Etiquette & Customs
The chance to visit commercial saunas in Finland should not be missed by any tourist. A sauna bath offers a tranquil place of retreat and a chance to get to know Finns and this cultural tradition that their ancestors created thousands of years ago. Both private and public saunas are easy to find since there's one sauna for every three people in Finland. Or so we're told.
Introduction to Sweat Baths 101
Bathing in steam has been a ritual in various cultures around the world for centuries and many of these "sweat lodges" have the same function and design as the Finnish original. Even today, the opportunity to participate in public or commercial saunas while on vacation continues to attract new followers to its healing properties as the bath offers remarkable benefits in preventing ailments and improving health.
In North America the Indians called them sweat lodges, in Mexico and Guatemala it's the Temascal, in Turkey they are called Hammam, in Russia the Bania, in Korea the Jjim Jil Bang.
The Lure of Public Saunas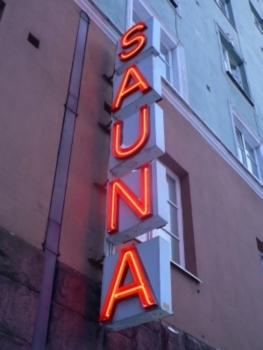 Commercial Sauna Etiquette
Sauna etiquette in many commercial saunas will have both male and female patrons enjoying the bath in the nude, but follow the local custom where ever you are. (Actually, it's a grave offense in Finland to sit in a sauna with clothes on.)
Many European and Asian public saunas go au natural as well, but they won't bother you about being shy. Just don't stare. In the U.S., though, commercially operated saunas are more prudish and you can expect everyone to be covered up. The rules on how to use the sauna will be posted outside the door.
How to Take a Sauna
You must take a shower to moisten the skin before you go in and, for hygienic reasons, nude bathers in commercial or public saunas should take a towel to sit on. Inside the sauna, sit back and relax while enjoying the soothing affects of the dry radiant heat. To increase the temperature, splash water on the rocks which will heat the sauna room further and temporarily increases the humidity. Have a good sweat for 10 to 15 minutes, but no more.
Step out of the room for a few minutes, or cool down with a shower. Then go back in for another 10 to 15 minute session. In the second or third sauna session, Scandinavians will gently beat themselves with birch boughs (vihta) to stimulate circulation. Give this a try too, just don't hurt yourself.
In Finland, don't be surprised to see the other hotel or spa guests, or patrons at public and commercial saunas, run outside and jump in an ice hole (avanto!) on a frozen lake, or take a dive in a snow bank during cool-down times. They aren't showing off publicly - Finns really like the shocking sensation of a hot bath followed by chilly dip. They believe, and studies have shown, that this invigorating method boosts the body's immune system, making one less susceptible to colds and infections.
Après-Sauna Customs
During your après-sauna time, you can pick up on clues from frequent users of public saunas who will next focus on taking care of their skin and hair as they cool down. They give themselves a brisk scrub with a loofa brush to exfoliate the skin, and follow that up by lathering the skin and hair with good moisturizers.
In Korean commercial saunas, the ajumas will give you a (savage) full body scrub with an exfoliating glove to rid your body of dead skin. If you survive, you can ask for a massage or facial afterwards.
Be sure to allow plenty of time to cool off before getting dressed, otherwise the sweating may still continue.
The German Sauna - German Families Enjoy it in the Buff!
The Mixed Sauna: Cultural Differences
Using a Sauna and Alcohol Consumption - Know Your Limits to Avoid Risk